Top Saudi investor says US energy boom could doom kingdom's economy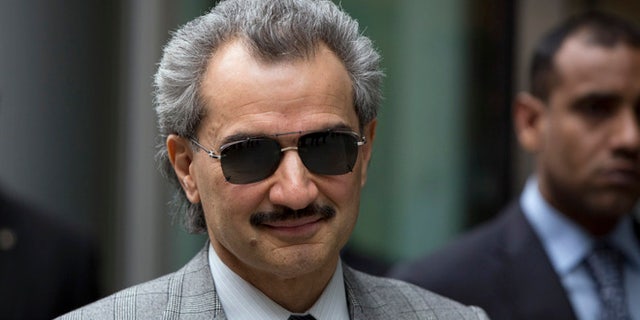 America's energy boom is putting a scare into Saudi Arabia.
According to the Wall Street Journal, Saudi billionaire Prince Alwaleed bin Talal warned in a letter to Saudi Oil Minister Ali al-Naimi and others that the U.S. boom of shale oil and gas will reduce its thirst for Saudi crude oil.
"With all due respect to your Highness' viewpoint about shale gas and that it poses no danger on Saudi economy at 'the present time,'" read a translation of the letter, dated May 13 but only recently tweeted on a Twitter page previously used by Alwaleed. "I was hoping that your Highness would also shed light and focus on the danger of this matter in the 'not-so-distant future,' especially that America and some Asian countries made big discoveries in shale gas extraction which will affect the oil industry around the world in general and Saudi Arabia in particular…"
The prince, who is worth an estimated $20 billion and founded Kingdom Holding, warned that the nation's near total reliance on oil revenues could leave it vulnerable when demand drops due to other nations' domestic production.
"Our country is facing a threat with the continuation of its near-complete reliance on oil, especially as 92 percent of the budget for this year depends on oil," wrote Alwaleed, who owns seven percent of the voting shares in News Corp, the former parent company of Fox News. "It is necessary to diversify sources of revenue, establish a clear vision for that and start implementing it immediately."
News of the letter comes after a newly published report from OPEC which showed that the group's export revenue hit a record high of $1.26 trillion in 2012. Forecasts have questioned whether that earning level can be sustained amid competition from fracking in countries that import OPEC oil and gas.
[pullquote]
"The Saudis have a huge competitive advantage, in that the cost for them to produce oil is very low, just a few dollars per barrel. So, Saudi Arabia is not going to find itself unable to sell its crude oil," Jonathan Lesser, an economist who specializes in the energy industry, told FoxNews.com. "What it is likely to find is that its ability to control prices on the world oil market will decrease over time; slowly, but decrease nevertheless."
Saudi Arabia is the world's largest exporter of crude but is now extracting less than capacity because consumers are importing less. Al-Naimi has played down the significance of shale oil production despite other OPEC member nations saying they have seen a sharp drop.
Oil revenue in Algeria fell by 6 percent last year, and in Iran, where exports have been curtailed by western sanctions, exports fell 8 percent.
Data from OPEC suggests other member nations could feel the sting of revenue loss as demand for crude will fall to about 30 million barrels a day in 2014. The average price has already dropped by 4 percent this year.
Production of oil in the U.S. has grown to record highs in 2012 and is expected to continue to rise. Daily crude production averaged 6.4 million barrels per day, a 15-year high. Stateside production is catching up to import needs, as 7.5 million barrels are being made while the U.S. produces 10.6 million barrels a day.
Lesser said Alwaleed is wise to recognize that the market dynamics are changing.
"A more basic concern is that any economy that relies heavily on a single commodity – be it oil in Saudi Arabia or copper in Chile – faces greater potential disruption when the market fundamentals for that commodity change," Lesser said. "So, the Prince is correct, especially when he notes that Saudi Arabia needs to diversify its economy."