Top Mexican Drug Lord Killed in Clash With Army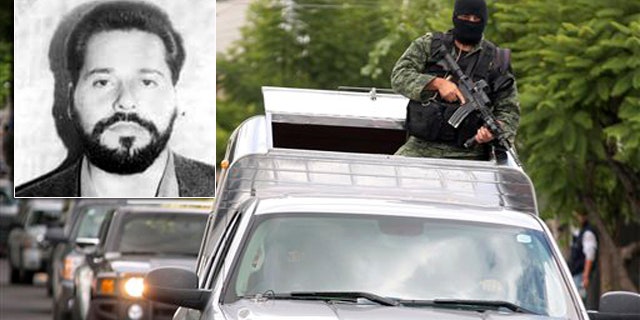 MEXICO CITY -- One of the top three leaders of Mexico's most powerful drug cartel, Ignacio "Nacho" Coronel," was killed Thursday in a gunbattle with soldiers, the Mexican army announced.
The death of Coronel, 56, is the biggest strike yet against Sinaloa cartel led by Joaquin "El Chapo" Guzman -- Mexico's top drug lord -- since President Felipe Calderon launched a military offensive against drug traffickers in late 2006.
According to the FBI, which offered a $5 million reward for Coronel, he was believed to be "the forerunner in producing massive amounts of methamphetamine in clandestine laboratories in Mexico, then smuggling it into the U.S."
Gen. Edgar Ruiz Villegas said an army raid was closing in one of Coronel's safehouses in an upscale suburb of the western city of Guadalajara, when the drug lord opened fire on soldiers.
"Nacho Coronel tried to escape, and fired on military personnel, killing one soldier and wounding another," Ruiz Villegas said at a news conference in Mexico City. "Responding to the attack, this 'capo' died."
Coronel's downfall came amid persistent allegations that Calderon's administration appeared to be favoring the Sinaloa cartel, or not hitting it as hard as other drug gangs.
Those allegations have drawn angry denials from the president and his top law enforcement officials, who point to the 2009 arrest of Vicente "El Vicentillo" Zambada -- the son of Ismael "El Mayo" Zambada, Sinaloa's No. 2 leader -- as proof they were going after the gang.
The detention is the biggest blow against Mexico's drug gangs since drug lord Arturo Beltran Leyva and six of his bodyguards were killed in a Dec. 16 raid by Mexican marines in the central city of Cuernavaca.
During Thursday's raid, soldiers also arrested Francisco Quinonez. Ruiz Villegas said Quinonez was Coronel's right-hand man and was the only one allowed to accompany him to his mansion.
Coronel was born in the northern state of Durango, the home state of many of Mexico's drug traffickers.
He rose up under Amado Carrillo Fuentes, the so-called "Lord of the Skies" and leader of the Juarez drug cartel who died in 1997. After Carrillo's death, Coronel joined the Sinaloa cartel and rose through the ranks to become the cartel's No. 3.
Villegas said Coronel controlled trafficking routes through the states of Jalisco, Colima and parts of Michoacan -- known as the "Pacific route" for cocaine smuggling.