Thousands of Italian Women in Berlusconi Protest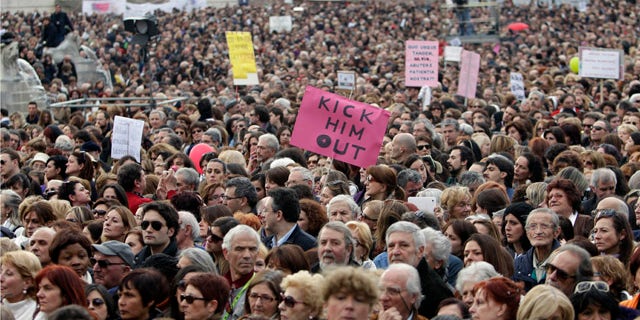 ROME -- More than 100,000 Italian women and their supporters turned out across the country to protest against Premier Silvio Berlusconi, saying his dalliances with young women humiliate the sex as a whole and degrade female dignity.
Backers of the 74-year-old Berlusconi, who is under investigation for allegedly paying for sex with a 17-year-old girl, dismissed the protests as strictly political.
The teenager, a Moroccan night club dancer, has said Berlusconi lavished cash and jewelry on her. Both deny having had sex with each other.
Prostitution isn't a crime in Italy, but paying a minor for sex is. Prosecutors are requesting to put him quickly on trial in what has been the most sensational probe against Berlusconi in over a decade of criminal cases against him, mainly for dealings in his billion-dollar empire of TV, film, advertising and other business interests.
The premier, who willingly acknowledges his fondness for pretty young women and is being divorced by his wife for his purported dalliances, claims he is being victimized by left-wing prosecutors who want to topple him from power.
From the tiny island of La Maddalena in Sardinia, to larger cities like Naples, Venice and even foreign venues like Paris, where around 400 people gathered outside Sacre Coeur church to bang pots and pans, women pressed for Berlusconi to resign.
In L'Aquila, the mountain town where Berlusconi has boasted about his reconstruction efforts after the 2009 quake damage, women complained they were still waiting for government-promised funds for a center for abused women.
In the main protest, Rome's Piazza del Popolo, a central square which can hold about 100,000 people, was packed with mothers, daughters, grandmothers and many husbands and boyfriends as the music blasted across the space, including Aretha Franklin's song "Respect."
Caricatures of some of the women promoted by Berlusconi, including former showgirls who are now ministers in his government or other officials from his conservative People of Freedom Party, decorated the walls surrounding the square. Berlusconi's penchant for choosing starlets for political posts has even been denounced by his estranged wife, Veronica Lario, a former actress herself.
"It's the fault of TV if women are seen if this way," said one of the Rome protesters, Eleonora Ermini, a woman in her 60s. "The majority of the people see things (on TV) that the powers want them to see."
The main jewel in Berlusconi's Fininvest businesses are Italy's three largest private TV networks. As premier, he also wields indirect political influence over those networks' chief competitor, state TV.
Main of the programs on his Mediaset networks are variety shows built around skits featuring scantily clad young women gyrating in sexy moves, showing off plunging necklines, bouncing barely covered behinds and beaming smiles with fleshy lips.
But Berlusconi seems to have cannily built his success model on an already-accepted concept of decorative women as standard Italian TV fare.
At the same moment that TV stations were showing the Rome rally at its start, a longtime staple of Italian Sunday afternoon soccer-based entertainment state television, "Quelli che il calcio e," featured with a bevy of young women prancing on spiked heels.
In a country where youth unemployment is chronically high, a career as a showgirl is eagerly sought by many women, with huge crowds turning out when TV shows advertise for tryouts.
"Parents make them do it because they think that their daughter can earn" big money, said Camille Memorati, a university student at the Rome rally.
When Italian newspapers published transcripts of intercepted phone conversations in the "Ruby-gate" probe of Berlusconi, using the nickname of the 17-year-old girl, the nation read about parents egging their daughters, who were invited to frequent evening parties at the premier's private residences, to try to get more money or gifts out of Berlusconi.
Berlusconi issued no public comment on Sunday's protests.
His education minister, Mariastella Gelmini, wrote off the protesters as "the usual snob heroines of the left who stepped out of their drawing rooms to exploit feminine issues and attack a government that continues to have the backing of the majority of Italians."
Opinion polls have showed that the largely rudderless center-left opposition has failed to make a significant dent in Berlusconi's popularity.
------
Valentina Chiarini contributed to this report.