The Latest: Putin thanks Russians for re-electing him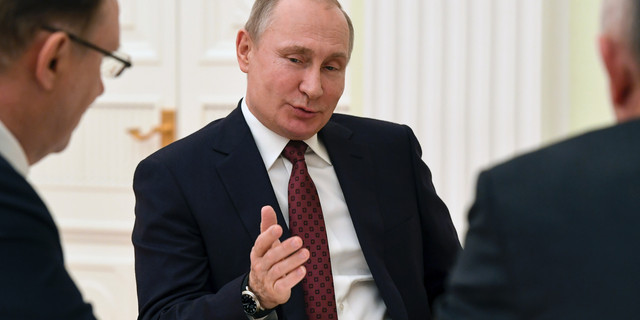 MOSCOW – The Latest on the re-election of Vladimir Putin as Russian president (all times local):
1:25 p.m.
Russian President Vladimir Putin has thanked Russians for re-electing him, promising to foster economic growth and solve social problems.
In a live televised speech Putin, who won nearly 77 percent in Sunday's vote, said he wanted to express gratitude to the Russians for his strongest ever electoral victory.
He said Friday that the powerful support was particularly important now, when the country faces domestic and external challenges.
Putin said that the country needs to make a "real breakthrough" in many spheres and move to encourage economic growth, raise living standards, modernize health care, revive the infrastructure and solve environmental and other problems. He emphasized that Russia needs to make a "technological leap" to meet those challenges.
___
12:15 p.m.
Russian electoral officials have officially declared incumbent President Vladimir Putin the winner of last Sunday's election.
The Central Election Commission on Friday issued final results, showing that Putin won nearly 77 percent of the vote. Communist candidate Pavel Grudinin came second with nearly 12 percent.
The vote was tainted by widespread reports of ballot-box stuffing and forced voting. Ella Pamfilova, chairwoman of the Election Commission, said at the commission's session on Friday that the vote was free and fair.
Sunday's win will keep Putin in office until 2024.