The Latest: Le Pen: Twin 'totalitarianisms' threaten France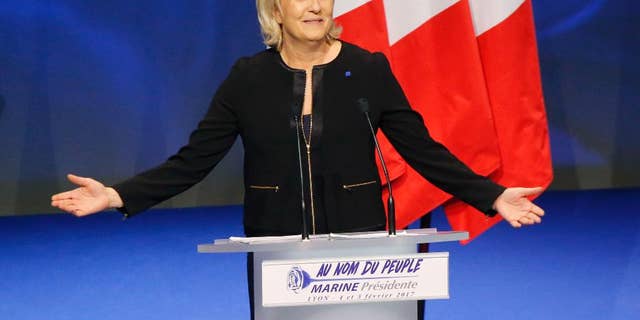 LYON, France – The Latest on France's far right conference Sunday in the southeast city of Lyon. (all times local):
3:40 p.m.
Far-right leader and presidential candidate Marine Le Pen says France is threatened by two "totalitarianisms" in the form of economic globalization and Islamic fundamentalism.
Le Pen said during a speech at her National Front party's conference Sunday in Lyon that those threats are "planting itself in some neighborhoods ... and vulnerable minds."
Le Pen listed the veils some Muslim women wear, mosques and prayer in the streets of France as unacceptable cultural dangers "no French person...attached to his dignity can accept."
Le Pen's speech closes the two-day conference in Lyon.
___
12:30 p.m.
A far-right French political figure says Britain's decision to leave the European Union and the election of U.S. President Donald Trump have given the French a "reason to vote" because it can result in real change.
National Front official Florian Philippot spoke ahead of French presidential candidate Marine Le Pen's speech at a National Front party conference Sunday in Lyon.
Le Pen will be speaking about her 144 presidential promises unveiled a day earlier, a nationalist agenda aimed at throwing off the European Union, NATO and the status quo. In her platform, Le Pen envisioned a thriving nation "made in France," with its citizens first in line for state services and the state unshackled by the rules-laden European Union.
Among her promises: No more membership in NATO's integrated command. No more euro currency, European Union or open borders. Immigration, especially by Muslims, would be contained. And no more second chances for foreigners under surveillance as suspected potential terrorists — those thousands would be expelled.
___
12:15 p.m.
Unlike U.S. President Donald Trump, Marine Le Pen of the far-right National Front isn't a new quantity in French politics — she has headed the anti-immigrant party since 2011 and came in third in the presidential vote in 2012.
Early polls consistently show Le Pen among France's two top presidential candidates, but suggest she'll lose by a wide margin in the May 7 runoff.
The candidate just two weeks ago considered the most likely to beat Le Pen and win, former conservative Prime Minister Francois Fillon, has seen his support plummet as French prosecutors investigate possibly fictitious parliamentary aide jobs once held by his wife and two children.
Former budget minister Emmanuel Macron, who rebelled against the Socialist Party to strike out on his own, could end up facing Le Pen in the second-round vote.
Also running for the French presidency are leftists Jean-Luc Melenchon and Benoit Hamon.