The Latest: Expert: 'stay put' policy failed in tower fire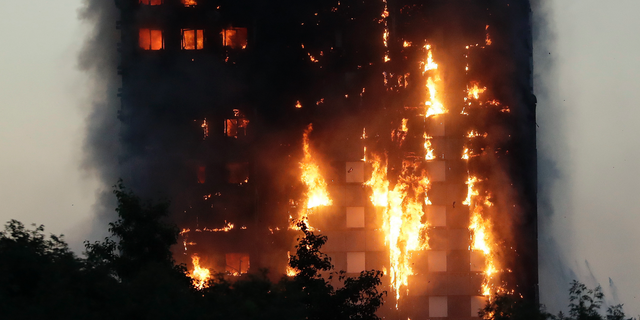 NEWYou can now listen to Fox News articles!
LONDON – The Latest on the inquiry into the deadly Grenfell Tower fire in London a year ago (all times local):
12:25 p.m.
A fire expert says residents of London's Grenfell Tower high-rise were told to stay in their apartments as fire raged through the building, long after it should have been clear that the "stay put" policy had failed.
Fire-safety engineer Barbara Lane says the policy had "effectively failed" barely half an hour after the fire started early on June 14, 2017. In a report published Monday, Lane said Grenfell residents were not told to evacuate for more than an hour after that.
Lane's report was published by an inquiry investigating causes of the fire, which killed 72 people. The blaze started with a faulty refrigerator in one apartment and quickly raced up the 25-story block,
Lane's report said that a 2016 renovation of the public-housing block installed flammable aluminum-and polyethylene cladding on the tower's facade and led to "multiple catastrophic fire-spread routes."
___
8:45 a.m.
An inquiry is due to start into the fire at London's Grenfell Tower high-rise, which killed 72 people almost a year ago.
The judge-led inquiry aims to find the causes of Britain's deadliest fire in decades and to prevent future tragedies.
It will examine how a blaze that started with a faulty refrigerator spread so quickly, the response of local authorities and the country's high-rise building regulations. But some survivors are critical because it won't investigate wider issues around social housing.
A lawyer for the inquiry is due to make an opening statement Monday. It follows almost two weeks of personal tributes from friends and family of the victims.
Judge Martin Moore-Bick has assured survivors that "my team and I are determined to provide the answers that you seek."