Thailand's royal palace says king has recovered from lung infection, health back to normal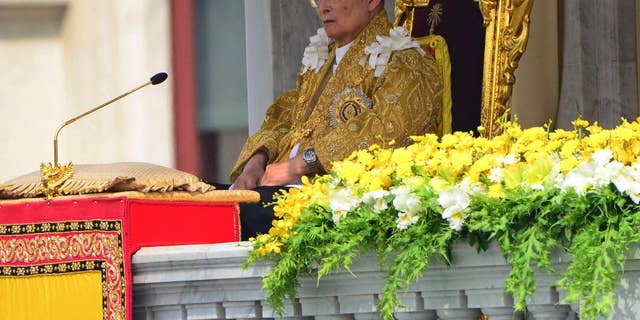 BANGKOK – Thailand's 87-year-old king has recovered from a lung infection that had required him to be fed intravenously and use a machine to aid his breathing, the royal palace said.
Doctors reported Monday that a blood test and a chest X-ray showed that an infection detected in early September had cleared up, the palace said in a statement. It said King Bhumibol Adulyadej's pulse, blood pressure, breathing, blood oxygen level and body temperature were normal.
"The doctors stopped giving him antibiotic medicines and stopped putting him on a drip," said the statement, released late Monday. "They will still give him physical therapy."
Bhumibol, who took the throne in 1946, is the world's longest-reigning monarch. A series of medical announcements this month had caused serious concerns about his health, and one of his daughters, Princess Chulabhorn, had called on the public to pray for his recovery. He has spent most of the past six years in Bangkok's Siriraj Hospital, parts of which serve as his de facto palace
While he is a constitutional monarch with no formal political role, Bhumibol has generally been regarded as Thailand's unifying figure. The heir apparent, Crown Prince Vajiralongkorn, does not yet command the same respect and affection as the king.
Bhumibol was originally admitted to Siriraj Hospital in 2009 with what was said to be a lung inflammation, but has had other health problems as well, including having his gallbladder removed last year.
In 2007, the king was hospitalized for three weeks with symptoms of a minor stroke. This past August, the palace said he was recovering from several ailments, including excess fluid in the brain and difficulty breathing due to congested lungs.