Thailand boys freed from cave mourn, honor diver who died in rescue mission
The twelve boys who were rescued from a Thailand cave paid tribute on Sunday to the Navy SEAL who died during rescue mission that attracted international attention.
The teenage boys, aged 11 to 16, are recovering at a local hospital after spending 18 days stranded in Tham Luang cave after monsoon rains flooded the cave's entrance.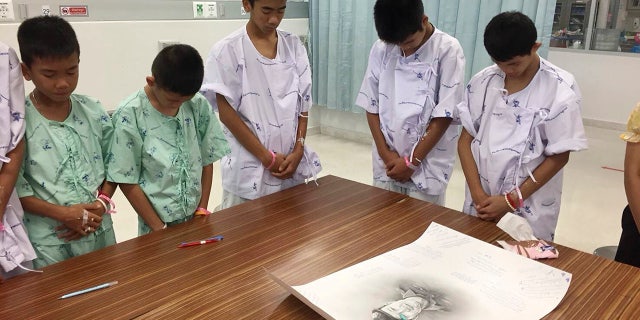 Wiping away tears, the boys wrote messages of thanks on a portrait of former Navy SEAL and volunteer diver Saman Kunan, who died July 6, while installing oxygen tanks along the passageways of the cave.
"All cried and expressed their condolences by writing messages on a drawing of Lieutenant Commander Saman and observed one minute of silence for him," the Thailand health ministry said in a statement, adding that the boys were only told about Saman's death until a medical team determined they were mentally strong to handle the news.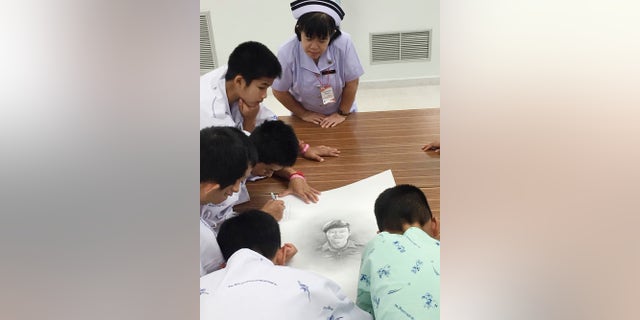 "They also thanked him and promised to be good boys," the statement added, Sky News reported.
Saman, 38, was a volunteer who had been engaged in the important mission of helping replace oxygen canisters along the route to where the boys were sheltering to make the hours-long passage possible.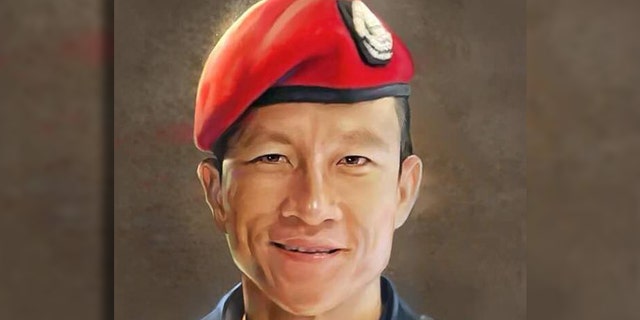 THAI CAVE WHERE SOCCER TEAM WAS TRAPPED WILL BECOME A 'LIVING MUSEUM,' OFFICIAL SAYS
He was granted a posthumous promotion to lieutenant commander by King Maha Vajiralongkorn Bodindradebayavarangkun and given the royal decoration of Knight Grand Cross (first class) of the Most Exalted Order of the White Elephant, the SEALs said Saturday on their Facebook page.
The former SEAL is being honored as a national hero, and his cremation ceremony was being held Saturday in his home northeastern province of Roi Et.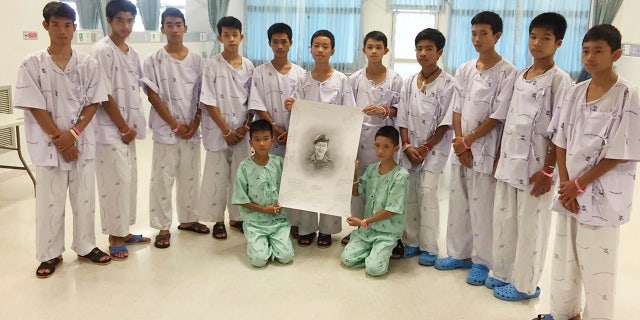 In a news conference on Sunday, Public Health Minister Dr. Piyasakol Sakolsattayatorn said the boys and their 25-year-old coach are recovering well and are eager to eat their favorite comfort foods after their expected discharge from a hospital on Thursday.
"All of the 13 people, their physical bodies are strong, and fit. Regarding infections, through the medical evaluations in the first days there may be some of them that had minor pneumonia, but now all is cleared, no fever," Piyasakol said.
Piyasakol gave a prognosis for the boys, and said, "Psychologists have been talking to the kids, with the kids, their mental well-being is good today."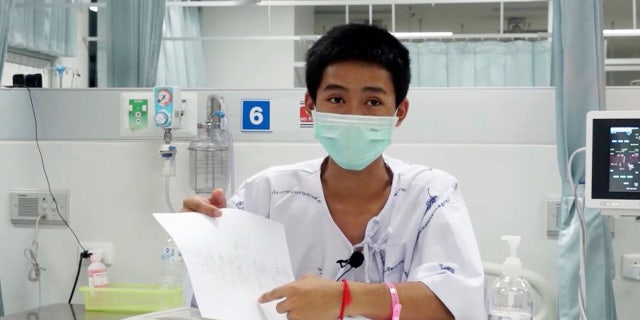 THAILAND CAVE RESCUE BOYS THANK RESCUERS, ADMIT THEY ARE CRAVING PORK, RICE AND KFC
"Even though they are about to leave in the days ahead ... they aren't as strong as a normal person, they still need to rest and improve their health, and body," he said.
Adul Samon, a stateless 14-year-old sent to Thailand for schooling by his ethnic minority parents across the border in Myanmar, spoke in Thai and then in English: "Hello, I am Adul. Now I am very fine. I am very thank you so heavy, thank you so much."
Adul is perhaps the best known of the boys because he was the one speaking English in the video taken inside the cave when the team members were first found by two British cave divers on July 2, nearly 10 days after being trapped by flooding.
In the area in northern Thailand around the cave, more than 4,000 volunteers were reported to have taken part Saturday in trying to restore the landscape, which was damaged by the massive rescue effort that included the flooding and clearing of land and the use of heavy machinery.
The Associated Press contributed to this report.