Thai soccer team evacuation postponed as rescuers continue prepping boys for dive
Thai soccer teammates trapped in a cave for almost two weeks will see their stay underground extended after authorities announced early Saturday that they would be delaying a planned evacuation attempt.
The evacuation of 12 schoolboys will be put off because they haven't sufficiently learned how to dive in the days since they were discovered by searchers, officials said.
The group entered the Tham Luang cave complex in Chiang Rai Province on June 23 with their 25-year-old soccer coach, just after practice ended. They became trapped after heavy rains flooded key passages.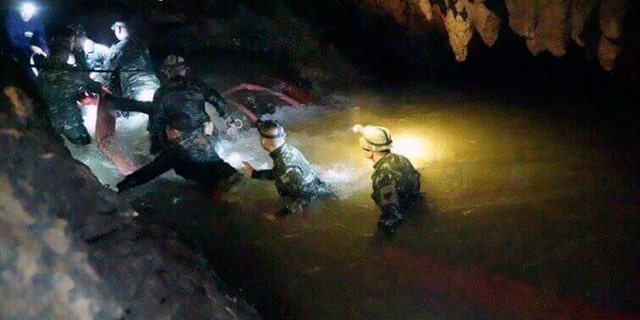 "There is no chance the boys will come out today. It is not suitable. They still cannot dive," Chiang Rai Gov. Narongsak Osottanakorn said early Saturday, according to The Daily Mail.
"The children are learning how to dive," the governor continued. "We'd like minimum risk, but we can't wait until it rains heavily and worsens the situation."
If rainwaters increase, he said, plans could change quickly.
"If that happens, we'll need to reassess," he said. "The key thing is the kids' readiness to dive. If it rains, and the situation is not good, we will try to bring the boys out."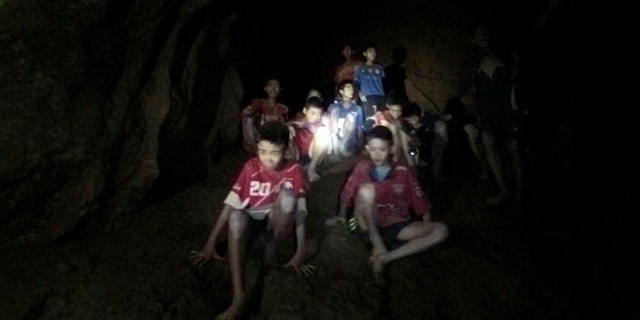 Thai officials had been leaning in their public statements toward a quick underwater evacuation amid concern that access to the cave could soon close again because of seasonal monsoon rains expected this weekend. However, cave rescue specialists have cautioned against that approach except as a last resort, because of the dangers it poses.
The news of the evacuation postponement follows the death of a former Thai Navy SEAL who was attempting to rescue the team early Friday. The deceased volunteer rescuer, identified as Saman Kunan, 38, was returning about 1 a.m. from the chamber where the boys are trapped when he ran out of oxygen.
A Dutch diver who was reportedly part of the group of rescue workers who found the boys told Sky News they were partaking in some sort of ritual.
The boys had left their backpacks and shoes outside the complex "before wading in and trying to go to the end of the tunnel," Ben Reymenants said. "Sort of like an initiation for local young boys to ... write your name on the wall and make it back."
Fox News' Nicole Darrah, Benjamin Brown, Chris Irvine and The Associated Press contributed to this report.