Teen among 3 more arrested in London subway terror attack probe
British counterterror police have arrested a teenage boy and two more men in connection with last week's terror attack on the London Underground subway system -- bringing the total number in custody up to six people -- and are conducting a series of searches, including one at a "halfway house" for refugees.
The Metropolitan Police announced early Thursday that a 17-year-old was arrested under the Terrorism Act in the Thornton Heath district of South London. On Wednesday, detectives arrested a 48-year-old man and a 30-year-old man in the Welsh city of Newport, where a 25-year-old man was also arrested Tuesday.
Cmdr. Dean Haydon of the Met's Counter Terrorism Command, said investigators were searching five addresses -- two in Newport, one in Thornton Heath, and two in the suburban county of Surrey
"We anticipate that the searches will take some days to complete and may cause further disruption," Haydon said. "However, it is important that we continue with these searches and I'd like to thank all those affected for their support, patience and cooperation."
Neighbors told Sky News the two men arrested in Newport early Wednesday lived in a "halfway house" for asylum seekers.
"The people that live there don't come from around here," a local businessman told Sky. "I don't think they've been there for long."

Witnesses said the 25-year-old man arrested Tuesday had lived in the area for many years and attended local mosques.
"He was a nice guy, everybody knew him," one man said. "He was a student here and he worked as a painter and decorator."
A Muslim woman who did not want to be named told Sky News the man had helped with painting work at her house about two years ago.
"He was a nice guy, he was very softly spoken," she said. "He used to condemn terrorism in front of my husband, my husband would condemn terrorism and he would agree with him.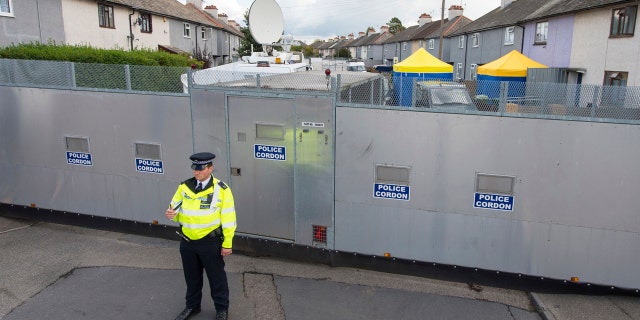 Two other men arrested over the weekend — an 18-year-old refugee from Iraq and a 21-year-old from Syria — remain in custody. Neither has been charged.
The arrests come after a homemade bomb planted in a rush-hour subway car partially detonated Friday, injuring 30 people.
The attack sparked a huge manhunt for the perpetrators, and prompted the British government to briefly raise the national terrorism threat to the highest level.
The Associated Press contributed to this report.