Syrian president appoints new prime minister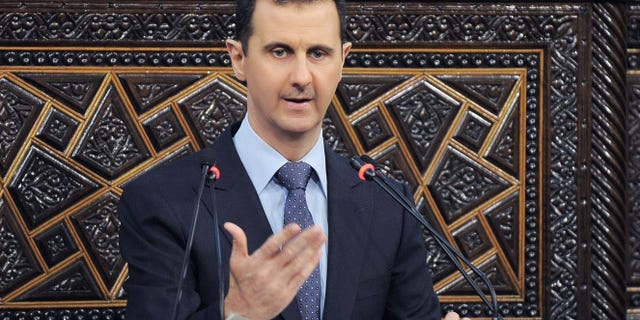 BEIRUT – Syrian President Bashar Assad appointed a loyalist as prime minister Wednesday as he battles an uprising against his rule that has grown increasingly violent over the past 15 months.
Riad Farid Hijab, a member of the ruling Baath Party and the former agriculture minister, will form a new government following last month's parliamentary elections.
Assad touted the May 7 vote as a milestone in promised political reforms. The elections were the first under a new constitution that allows political parties to compete with the Baath.
But the opposition boycotted the vote and said it was orchestrated by the regime to strengthen Assad's grip on power. Parliament is considered little more than a rubber stamp in Syria, where the president and a tight coterie of advisers hold the real power.
Activists say as many as 13,000 people have died in Assad's crackdown against the anti-government uprising, which began in March 2011. One year after the revolt began, the U.N. put the toll at 9,000, but many hundreds more have died since.
On Tuesday, Syria agreed to allow humanitarian workers and supplies into four of its provinces hit hardest by violence -- a promise of some relief in a nation where 1 million people need aid urgently due to the fighting.
At the same time, however, Damascus plunged itself into further international isolation by labeling U.S. and European envoys as unwelcome in retaliation for earlier Western expulsions of Syrian diplomats.
The humanitarian deal requires Syria to provide visas for an unspecified number of aid workers from nine U.N. agencies and seven other non-governmental organizations, and to cut through the red tape that has blocked convoys from delivering food, medicine and other supplies, said John Ging, operations director for the U.N. Office for the Coordination of Humanitarian Affairs.
But officials were quick to caution they won't declare success until Assad's government delivers on its promises. Ging said he hopes it will be "days, not weeks" before the workers start filtering in and aid is delivered to Daraa, Deir el-Zour, Homs and Idlib provinces, and he urged Syria to keep its end of the bargain.
"Whether this is a breakthrough or not will be evident in the coming days and weeks and it will be measured not in rhetoric, not in agreements, but in action on the ground," Ging said after a closed-door session in Geneva to discuss the dire humanitarian situation in Syria.
Last week, Western nations expelled Syrian diplomats in a coordinated move after a May 25 massacre in which more than 100 people were slaughtered in Houla, a cluster of small villages in the central province of Homs. The U.N. says pro-regime gunmen were believed to be responsible for at least some of the killings, but Assad has insisted his forces had nothing to do it.
On Tuesday, Syria barred some U.S. and European diplomats, saying they were "no longer welcome." The countries targeted by the order had already pulled their ambassadors from Damascus, but the move showed how far diplomatic ties have disintegrated amid the uprising.