Syrian army takes 2 villages near Lebanon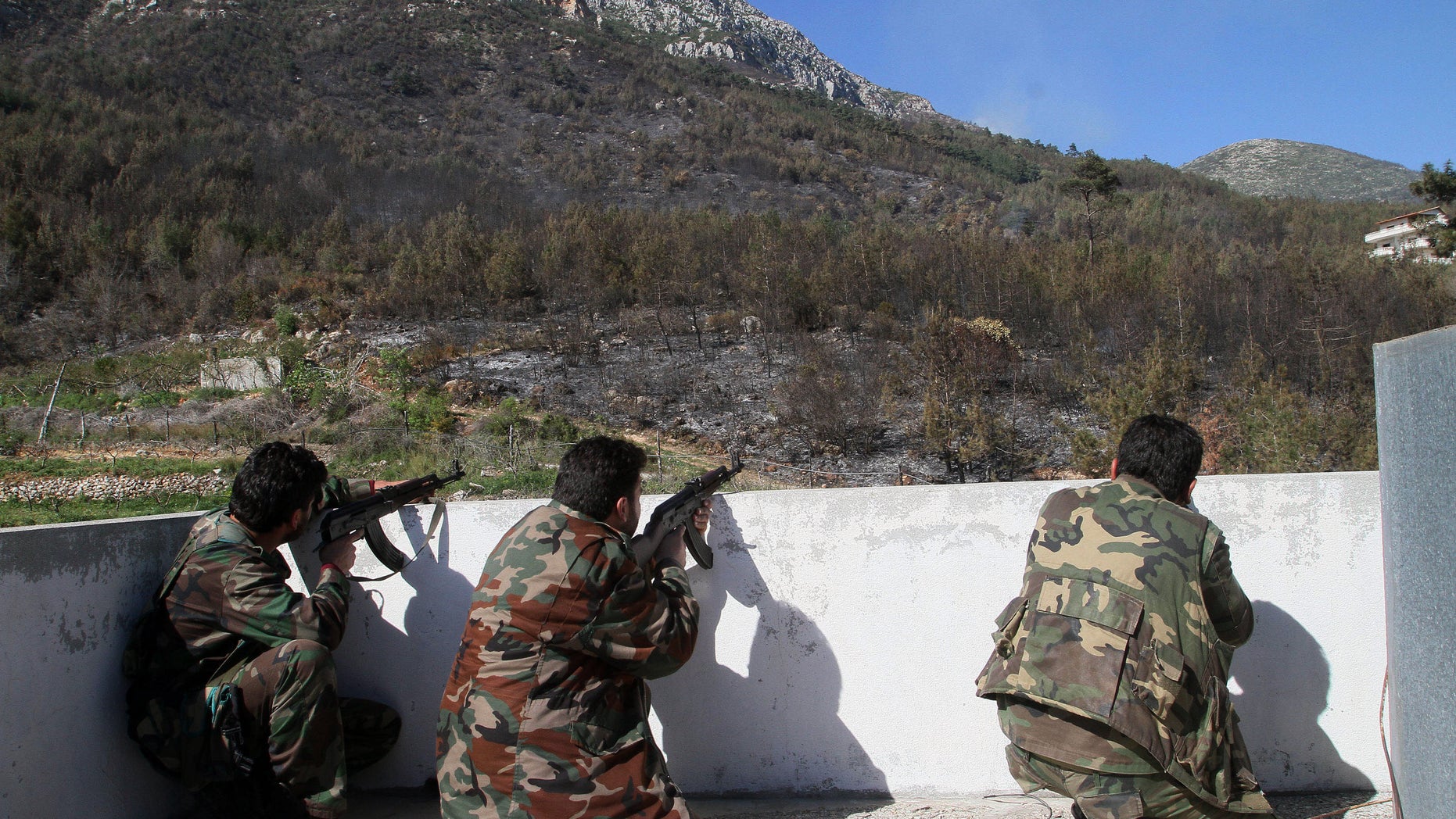 Damascus – Syrian government forces captured two villages near the border with Lebanon on Saturday, continuing a weeks-long advance that has cut a major supply route for weapons and fighters into the country from eastern Lebanon, said activists and state TV.
The villages of Flita and Ras Maara were the latest targets of a government offensive in the rugged Qalamoun border region after troops captured the town of Yabroud earlier this month. Tens of thousands of Syrians fled into Lebanon since the Qalamoun offensive began in November.
Flita, about 5 miles from the border with Lebanon, had been a major crossing point for rebels coming into Syria to fight President Bashar Assad's forces.
It is part of the Qalamoun region, which holds strategic value for the government. It is situated along the main north-south highway that links the capital to government strongholds along the Mediterranean coast.
State TV said the villages fell after government forces "wiped out the last remnants of armed terrorist groups and destroyed its weapons and tools they used in their crimes." The Syrian government refers to rebels as "terrorists."
The Britain-based Syrian Observatory for Human Rights also confirmed Syrian forces backed by fighters of the Shiite Lebanese group Hezbollah seized the villages.
Lebanon's Iranian-backed Hezbollah openly began waging war alongside Assad's forces last year, allowing Syrian forces to regain swaths of territory lost to armed rebels since the uprising began three years ago.
Hezbollah leader Sheik Hassan Nasrallah said his fighters would remain in Syria for now.
Speaking at a cultural event in south Lebanon, on a large projected screen that broadcast his live speech from a secret location, the black-turbaned cleric said Hezbollah fighters in Lebanon were defending Syria and their own country from the scourge of extremist Sunni groups.
"We have taken on this burden and are continuing with it," Nasrallah said.
Lebanon's state-run National News Agency said about 700 Syrians fled the fighting to the Lebanese border town of Arsal. Lebanese soldiers were checking people's identity cards to make sure no fighters were among them, it said.
As Syrian forces seized the two villages, Syrian warplanes carried out an air raid on the hilly outskirts of Arsal. Deputy mayor Ahmad Fliti said there were no casualties.
An activist in a nearby area known as eastern Ghouta who uses the name of Abu Yazan al-Shami said rebels were still fighting inside the two villages. He said rebels expected Assad-loyal forces to try seize the town of Rankous next, allowing the government "to completely cut supplies from Lebanon into Qalamoun."
The Syrian Observatory said by Saturday evening, government forces were attacking the outskirts of Rankous.
In the coastal province of Latakia, the Observatory reported that government warplanes pounded areas where Syrian soldiers were clashing with rebels who, in a surprise move last week, seized a toehold of coastal territory in Assad's ancestral heartland province of Latakia.
The rebels, from several groups including the al-Qaida-affiliated Nusra Front, seized a border crossing with Turkey, two observatory posts and -- for the first time in the 3-year-old conflict -- a tiny stretch of coast giving them an outlet to the Mediterranean Sea.
The rebels also seized the ancient Christian Armenian village of Kassab, causing most of the 2,000 residents to flee in fear of their lives.
Latakia, a mountainous and wooded region, is the heartland of Assad's Alawite sect, an offshoot of Shiite Islam that is a minority in Syria but is a major pillar of Assad's rule. Sunni Muslims dominate the rebel ranks fighting to oust Assad.
Syria's uprising, which began with largely peace protests in March 2011, has evolved into a civil war with sectarian overtones that has left more than 140,000 people dead.