Syria rebels destroy bridges in anticipation of offensive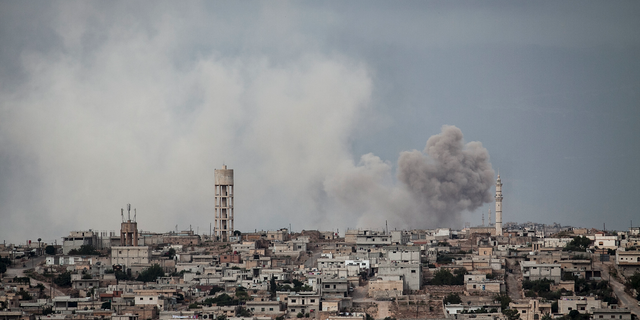 NEWYou can now listen to Fox News articles!
BEIRUT – Syrian opposition fighters blew up bridges Friday linking areas they control to government-held territories in northwestern Syria in anticipation of a military offensive against their last stronghold in the country, activists and a war monitor said.
The explosions rocked the area in al-Ghab plains, south of idlib and came after rebels detected government troop movement in the area, according to Rami Abdurrahman, head of the war monitoring Syrian Observatory for Human Rights.
Abdurrahman said two other bridges remain in the area and could be used by government forces to move in on the rebel stronghold.
Most of Idlib province and adjacent strips of Hama province remain in the hands of an assortment of armed groups, some Turkey-backed and others independent Islamist groups. But the strongest alliance of fighters is led by an al-Qaida-linked group that controls most of the area that is also home to some 3 million people.
Thousands of government troops and allied fighters have been amassing in areas surrounding Idlib while Russia, Syria's powerful ally, has said a military operation was necessary to weed out "terrorists" it blames for attacking its bases on the coast.
Turkey, which backs a number of opposition factions in Syria and has set up observation points that ring the rebel stronghold, has been seeking to curtail a full-scale offensive. Ankara fears a humanitarian and security crisis on its borders.
U.N. officials estimate an offensive would trigger a wave of displacement that could uproot up to 800,000 people. The area is already home to nearly 2 million displaced previously from other parts of Syria.
The Observatory said Turkey-backed rebels blew up the bridges as part of their reinforcement around the stronghold.
They have dug trenches, built berms and fortified their posts. Al-Qaida-linked authorities have also called on residents to take part in supporting the fighters, either through building reinforcements, volunteering to fight, or in field hospitals and kitchens to help men deployed on the frontline.
It also called on residents to take to the streets after Friday prayers against an offensive and in support of the fighters. Thousands protested in various towns in Idlib and Hama, denouncing threats of an attack and hailing the area's readiness to fight.
The campaign for Idlib is likely to be the last major theater of battle after seven years of brutal civil war.