Swedish elections likely to benefit nationalist party amid migration crisis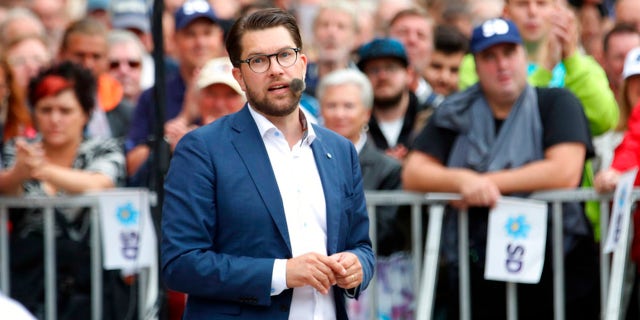 Sweden will go to the polls on Sunday in an election where the nationalist Sweden Democrats are expected to do well amid long-standing concerns over mass Islamic migration into the country -- the latest country to turn rightward as European Union countries struggle with the fallout from the 2015 migration crisis.

The vote on Sunday will be the first since the Syrian refugee crisis in 2015, which sent hundreds of thousands of migrants from the Middle East and Africa flooding into Europe. Sweden took in 163,000 in 2015, one of the highest on the continent.
But while the Swedes are known traditionally for their openness and tolerance of migrants, and the country has been seen as immune to the populist wave sweeping Europe -- the continuing migrant crisis has dented that consensus.

"Our questioning of mass migration and how to push back against crime -- everybody is talking about that now. That's of course in our favor," Sweden Democrats' leader Jimmie Akesson told The Wall Street Journal in an interview.

When in 2017, President Trump made reference to the problems with crime and terrorism Sweden was facing, he was widely mocked by many in the media. But concerns about migrant crime and terrorism are apparently shared by a significant number of Swedes.

According to The Journal, in 2017 police reported more than 320 shootings, dozens of bombings, and 7,226 rapes—a 10 percent increase from 2016. It notes that Norway only recorded one gun homicide in 2017, compared to Sweden's 43.

Polls show the Swedish Democrats, who have made immigration restriction their main focus, comfortably in the lead ahead of the Sunday's election with between a 20-23 percent of the vote where there are eight parties in the running.
HUNGARY'S PRO-TRUMP, POPULIST GOVERNMENT PUSHES SOROS CRACKDOWN

While well short of an outright majority, it could be enough to stop the ruling center-left Social Democrats, or the center-right Moderates from being able to form their own coalitions without the Sweden Democrats. It could result in a political deadlock in the country after Sunday.

What could also conceivably result is a situation like in Austria, where the center-right People's Party formed a coalition with the further-right Freedom Party in December -- both parties had taken tough stances on the question of migration.

Should the Swedish Democrats find a way to enter government, it would be the latest -- although perhaps the most surprising country -- to be hit by the populist wave sweeping through Europe.

That wave was thought to have crashed in 2017, when French President Emmanuel Macron beat nationalist candidate Marine Le Pen, while German Chancellor Angela Merkel's Christian Democrats came first in the German federal elections later in the year.

But Macron's popularity has dived since coming into office, while Merkel took months to be able to form a working coalition, and has struggled to hold onto power since.

Meanwhile, in Italy a populist coalition of the Five Star Movement and the nationalist League swept into power after elections in March -- taking an unashamedly strict stance on migration from Africa and refusing to accept refugee rescue boats onto its shores. The combined popularity of the two parties in the polls is currently at approximately 60 percent.

In Hungary, Prime Minister Viktor Orban's Fidesz Party, running on a strict anti-migration platform, strengthened its majority in recent elections -- and has been proudly touting its border security as a reason why it hasn't had even one illegal immigrant enter the country since the migration crisis.