Suspected Israeli 'earthquake-level' Syria strike kills mostly Iranians
Suspected Israeli missile strikes shook Syria on Sunday with enough force to register as an earthquake, as blasts targeted two Iran-linked military bases and left nearly 30 pro-government fighters dead.
The Britain-based Syrian Observatory for Human Rights said the late Sunday night attack appears to have been carried out by Israel to destroy an arms depot for surface-to-surface missiles at a base in northern Syria near Aleppo, known as Brigade 47. The Observatory said those killed were mostly Iranians, while four Syrians were also among the casualties.
Iran's semi-official news agency, ISNA, said the strike killed 18 Iranians, including a commander, in a suburb of the central city of Hama. It cited "local sources and activists" for its report. The missiles targeted buildings and centers which likely include a weapons depot, ISNA reported.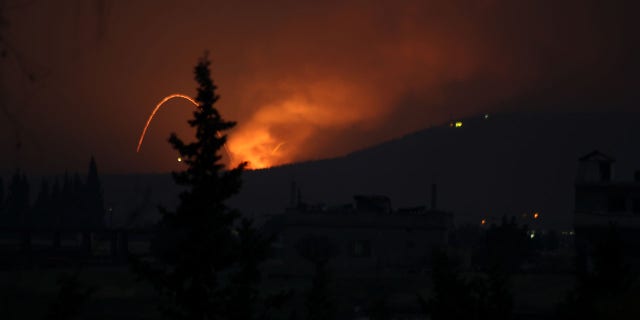 Another Iranian news agency, Tasnim, denied reports Iranian fighters were killed or that Iranian-run bases were hit.
Syria-based opposition media activist Mohamad Rasheed said the base that came under attack is about 7 miles outside the city of Hama, adding that the airstrike led to several explosions in the arms depot. He added that the area is known as the Maarin Mountain, or Mountain 47.
Rasheed said that some of the exploding missiles in the arms depot struck parts of Hama, adding that residents in areas near the base fled their homes. He said the base has been run by Iranian and Iran-backed fighters from Lebanon, Iraq, Afghanistan and Pakistan.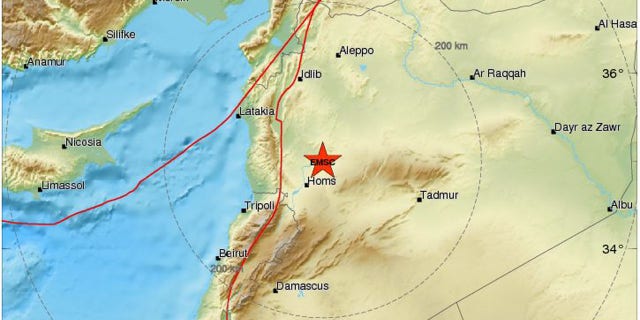 The missile strikes were so powerful they registered as a 2.6-magnitude earthquake in the Hama area, the European-Mediterranean Seismological Centre said.
RUSSIAN FM SAYS US TRYING TO 'DIVIDE SYRIA INTO PARTS'
The attack came hours after Israeli Prime Minister Benjamin Netanyahu talked to President Trump on the phone. The White House said the two leaders discussed the continuing threats and challenges facing the Middle East, "especially the problems posed by the Iranian regime's destabilizing activities."
On Saturday, newly-confirmed Secretary of State Mike Pompeo offered support to Israel and Saudi Arabia in their standoff with Iran.
"We remain deeply concerned about Iran's dangerous escalation of threats to Israel and the region and Iran's ambition to dominate the Middle East remains," Pompeo said. "The United States is with Israel in this fight.
Israel has cited Iran's hostile rhetoric, support for anti-Israel militant groups and development of long-range missiles.
Israel's security cabinet is convening for an unscheduled meeting on Monday, with ministers told it would focus on the Iran nuclear deal, Haaretz reported. Trump has set a May 12 deadline to decide whether to pull out of the Iran nuclear deal.
The Associated Press contributed to this report