Suspected Al Qaeda militants briefly seize Yemen army base in deadly battle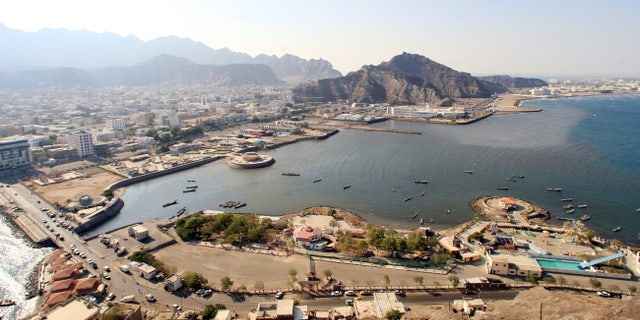 NEWYou can now listen to Fox News articles!
Suspected Al Qaeda militants briefly seized an army base next to the international airport in the southern Yemeni city of Aden on Wednesday, killing 14 soldiers and setting off an hours-long gunbattle before withdrawing, security and medical officials said.
The attack began before dawn on Eid al-Fitr, a major Muslim holiday marking the end of the fasting month of Ramadan.
A suicide car bomb struck the Central Security compound, while a second group of attackers wearing explosive vests stormed another gate under the cover of heavy gunfire, the officials said. The sound of gunfire and explosions echoed across the city for more than six hours, only halting after Apache helicopters carried out a series of strikes, forcing the attackers to withdraw.
At least six attackers were killed, according to the officials, who blamed the attack on Al Qaeda's Yemen affiliate. No one claimed responsibility for the assault, in which the militants apparently tried to seize weapons and ammunition.
The officials spoke on condition of anonymity because they were not authorized to speak to the press.
Yemen is in the grip of a civil war pitting government forces backed by a Saudi-led coalition against Shiite Houthi rebels and army units loyal to a former president. That conflict has hindered efforts to combat Al Qaeda in the Arabian Peninsula and an upstart Islamic State affiliate, which have exploited the crisis and carried out large-scale attacks in the south.
The conflict in Yemen has killed an estimated 9,000 people and pushed the Arab world's poorest country to the brink of famine.