Suicide bombers attack town outside Baghdad, kill 6 people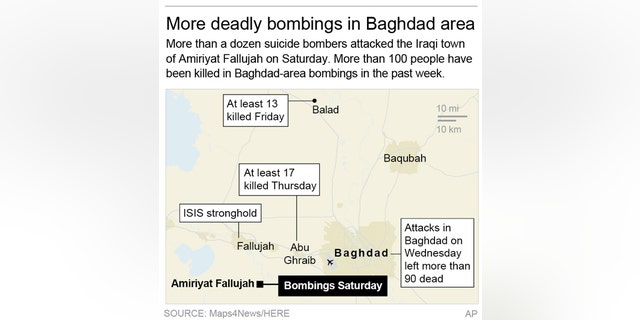 BAGHDAD – An official says more than a dozen suicide bombers have attacked a residential and government complex outside Baghdad, killing at least six people.
The police chief of the town of Amiriyat Fallujah, Col. Ali al-Issawi , says at least 14 suicide attackers broke into the complex Saturday at dawn. In addition to homes, the complex also includes a police station and several government offices.
Al-Issawi said five of the attackers blew up themselves while clashing with security forces, while others holed up inside the buildings, and were later killed. He added that five troops and one civilian were killed, while another 18 people were wounded.
The town is located a few miles south of Fallujah, the main Islamic State-stronghold in Anbar province, about 40 miles (65 kilometers) west of Baghdad.