Strong earthquake rattles southwestern China, killing at least 9 people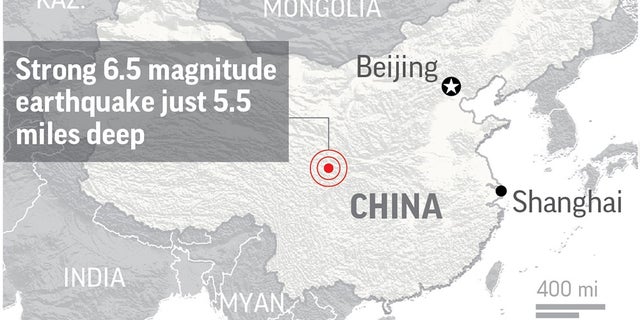 A strong earthquake in southwestern China on Tuesday killed at least nine people.
At least 164 others were injured, including 21 seriously, the Associated Press reported.
A man identified as Song told the AP an earthquake hit near Jiuzhaigou, or Jiuzhai Valley, a national park known for spectacular waterfalls and rock formations.
The magnitude 6.5 quake struck a region bordered by the provinces of Sichuan and Gansu at a depth of just 5.5 miles, according to the U.S. Geological Survey.
Shallow earthquakes tend to cause more damage than deeper ones.
The China Earthquake Networks Center measured the earthquake at magnitude 7.0 and said it struck at a depth of 12 miles. The quake occurred at about 9:20 p.m. local time.
The area is located on the edge of the Tibetan Plateau in northern Sichuan province, home to many Tibetan and other ethnic minority villages.
Earthquakes are common in China's west, although the low population density there often means casualties are low. China's deadliest earthquake this century, a magnitude 7.9 temblor with a depth of 12 miles, struck Sichuan province in May 2008, killing nearly 90,000 people.
The official Xinhua News Agency said strong tremors could be felt in Chengdu. The Sichuan provincial government's news website said that after the quake struck, a number of train services to Chengdu and other cities were suspended.
A Jiuzhaigou government official was quoted as saying that many people had run onto the streets after the earthquake struck, but that there were no immediate signs of any major damage to houses or other buildings, and that the situation was orderly.
The China Earthquake Networks Center said the quake was followed about 20 minutes later by a temblor measuring 3.3 in magnitude at a depth of 5.5 miles.
The Associated Press contributed to this report.