Star chef Jose Andres cancels plans to open restaurant at Trump hotel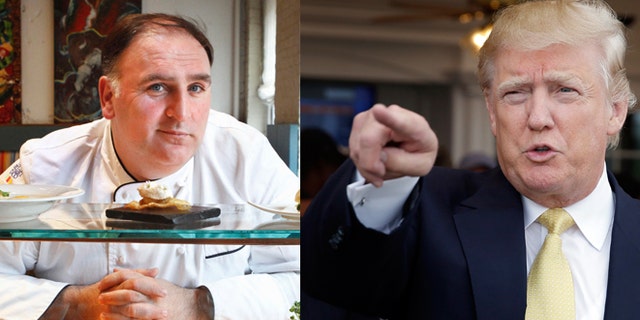 NEWYou can now listen to Fox News articles!
WASHINGTON (AP) – Celebrity chef Jose Andres backed out of plans Wednesday to open a flagship restaurant in Donald Trump's new hotel under construction in Washington.
Andres, a Spanish immigrant, cited Trump's statements "disparaging immigrants" in his decision to cancel plans to open an eatery at the Trump International Hotel. Andres is known for popularizing the small dishes known as tapas in the United States.
Real estate mogul and Republican presidential candidate Trump said in a speech June 16 that some Mexican immigrants bring drugs and crime to the U.S., and some are rapists. Various organizations are severing relationships with Trump.
Donald Trump's recent statements disparaging immigrants make it impossible for my company and me to move forward with opening a successful Spanish restaurant in Trump International's upcoming hotel in Washington, D.C.," Andres said in a statement to Fox News Latino.
"More than half of my team is Hispanic, as are many of our guests. And, as a proud Spanish immigrant and recently naturalized American citizen myself, I believe that every human being deserves respect, regardless of immigration status."
The new 270-room Trump International Hotel is being built in the historic Old Post Office Pavilion on Pennsylvania Avenue between the White House and Capitol. It is slated to open in 2016 after a $200 million redevelopment.
Andres' decision to back out of the new restaurant comes after undocumented immigrants working at the construction site of the D.C. hotel told the Washington Post they found Trump's disparaging remarks about Mexicans "ironic" considering he employs undocumented laborers to build his hotels.
Donald Trump Jr., Trump's son and a Trump Organization executive, issued a statement threatening legal action and noted that Andres has a 10-year lease. The Trump Organization would seek to recover any unpaid rent for the full 10-year term, he said.
"Our relationship with Jose Andres has always been a good one, but simply put, Jose has no right to terminate or otherwise abandon his obligations under the lease," Donald Trump Jr. said. "We will also enforce the exclusivity provisions preventing Mr. Andres from opening a competing restaurant anywhere in the D.C area."
Follow us on twitter.com/foxnewslatino
Like us at facebook.com/foxnewslatino