Republicans hope moderate Joe Heck can woo Latino voters in Nevada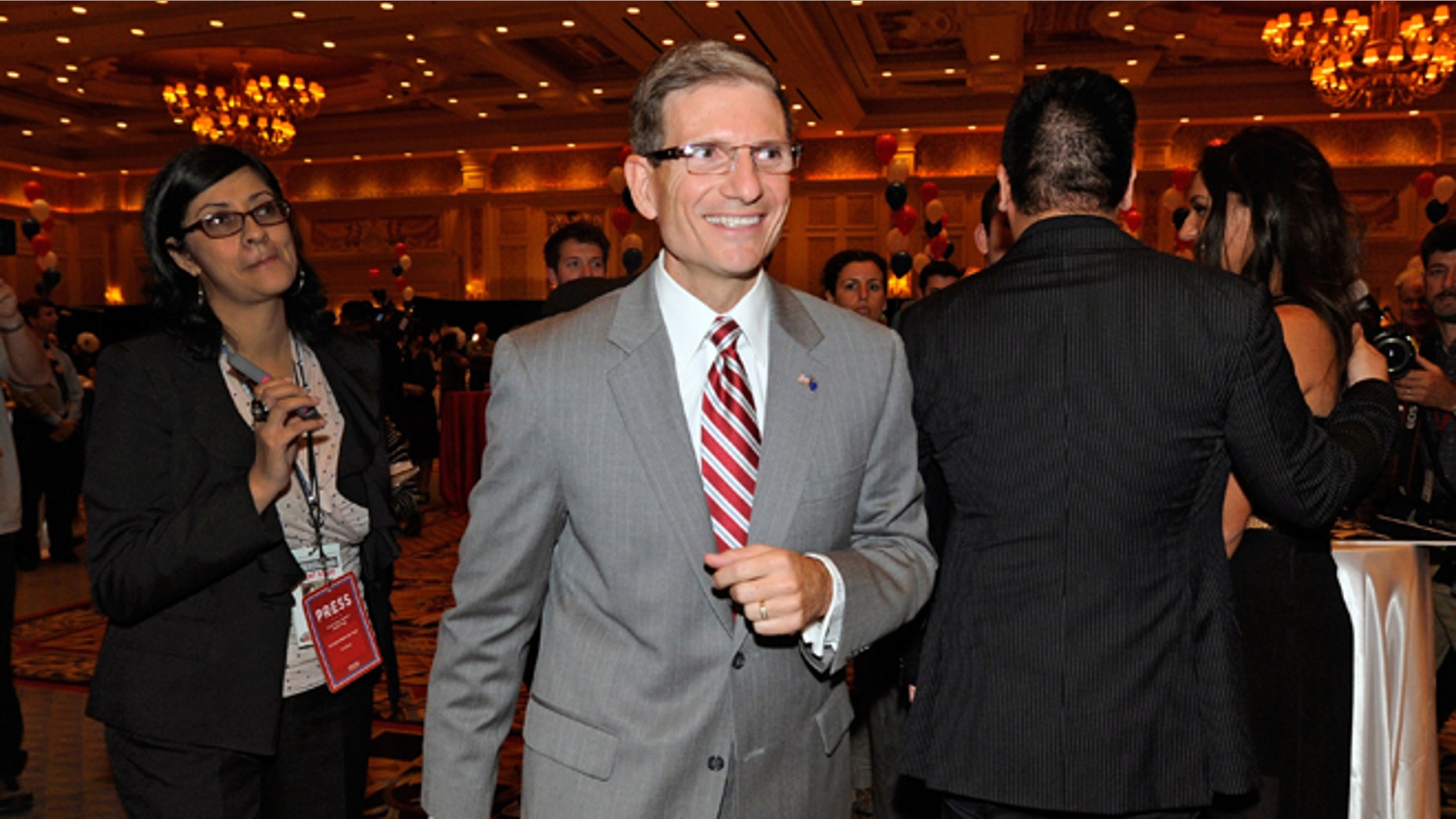 With Nevada Rep. Joe Heck declaring his intention to run for the soon-to-be-vacant Senate seat once Harry Reid retires, the Republican Party finally feels like they've got a candidate in the Silver state who can fill that position.
That is, however, if he can win Nevada's crucial Latino vote.
Heck – a House member, physician and brigadier general in the Army Reserve – has been touted by the GOP as a Latino-friendly candidate who has won three Las Vegas-area congressional elections thanks in large part to his moderate tone toward immigration reform. During the Senate race, observers say that Heck will have to distance himself from some of the more hardline Republican presidential candidates if he hopes to top the presumptive Democratic challenger, Catherine Cortez Masto.
"Could there be another Donald Trump rage against Latinos?" Chris Roman, the president and CEO of the Spanish-language MundoFOX station in Las Vegas, told the National Journal. "Will there be a 47-percent-won't-vote-for me moment? Anything Republican candidates say or do could somehow cloud his efforts."
The Donald Trump scandal is something that Heck is already distancing himself from, criticizing the real estate mogul's comments about Mexican immigrants, saying entire ethnic groups can't be stereotyped.
The three-term congressman from a state with 27 percent Hispanic population played up his own immigrant family history and endorsed a path to citizenship for so-called "Dreamers." He then criticized Trump, a Republican presidential candidate, for saying Mexicans come to the U.S. bringing crime, drugs and rape.
"That's Donald Trump's opinion, and certainly he said it only in a way that only he can, which is to promote himself and generate controversy," Heck said. "You can't stereotype an entire ethnicity, and that's what he attempted to do."
Heck highlighted immigration in a video announcement about his candidacy posted online earlier Monday and appeared ready for questions about his record in an interview with reporters in Las Vegas and Reno.
Despite taking a generally moderate view on immigration, Heck has drawn criticism in his district for saying he would have voted against a massive 2,000-page immigration reform bill that was blocked in Congress two years ago as too sweeping to be understood.
He said he wants to review and reshape immigration policies piece-by-piece, including border security, guest worker programs, visa violations and verification of immigration status for workers.
He said children of unauthorized immigrants deserve a chance to stay in the U.S. They're often referred to as "Dreamers" after the long-delayed federal DREAM Act that would create a path to citizenship for some immigrant U.S. high school graduates.
"Let's take care of the Dreamers, those children that came to this country through no fault of their own, that know no other nation but America," he said.
As for the approximately 12 million other people who aren't in the country legally, Heck suggested that a path to legal status would include criminal background checks, penalty fees, an understanding of the English language and the ability to be self-supportive.
"There's got to be a solution that can gain the majority of support in both houses," he said.
Heck, 53, said comments similar to those by Trump might have been made about his grandparents when they moved from Italy to New York.
Heck also highlighted his background as an emergency room doctor and on a military deployment to Iraq. He talked about the struggles his family endured growing up and having the help of a union and social services when his father was out of work.
"When my father needed emergency surgery, Medicare covered it. That's why I'll protect Medicare and Social Security and preserve it for future generations," Heck said in the three-minute video on his website.
Reid, 75, the Senate Democratic leader, announced in March that he wouldn't seek a sixth term after an exercise injury left him blind in one eye. He immediately backed Cortez Masto.
Heck said he expected Reid to play a major role in the election and predicted the longtime Democrat would make it "just as rough" for Republicans in the state despite not running.
On the Republican side, popular Gov. Brian Sandoval announced last month that he wouldn't seek the seat held by Reid. Sandoval said he wanted to focus on improving the state's infrastructure and higher education system.
Sandoval, along with presidential candidates including Florida Sen. Marco Rubio and former Florida Gov. Jeb Bush, took to Twitter to back Heck.
The Associated Press contributed to this report.