Despite controversy, Trump believes he'll win Latino vote: 'They love me, I love them'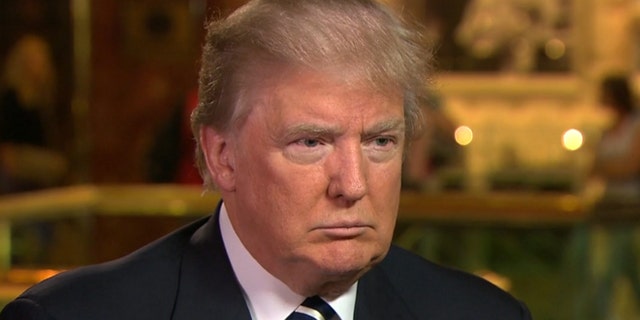 Despite the backlash over Donald Trump's Mexico comments – and the multimillion dollars deals he's lost because of companies cutting ties with him – the Republican presidential candidate and former "Apprentice" star still believes he will win the Latino vote.
"They love me," Trump said. "I love them."
In a Wednesday interview with NBC News, the real estate mogul and television personality continued to denounce illegal immigration.
"Don't try and convince me that there's no crime, that [immigration] is wonderful," he said.
In fact, the immigration policy favored by the Democratic frontrunner, Hillary Clinton, he said, would be to "let everybody come in … killers, criminals, drug dealers."
Yet, the real estate mogul said his views would not hurt him with Latino voters.
"I have a great relationship with the Mexican people," Trump said.
In a reference to a Washington Post report about undocumented immigrants working at a Washington, D.C.,Trump-backed real estate project, he noted, "I have many people working for me – look at the job in Washington – I have many legal immigrants working with me, and many of them come from Mexico."
The "Apprentice" host went on, "And I'll tell you something: if I get the nomination, I'll win the Latino vote."
Ever since his speech on June 16, companies have distanced themselves from Trump or dropped products associated with him – among them NBC News' parent company, NBC Universal, which announced on June 29 that he would no longer host "The Apprentice" and that it would not air the Miss USA and Miss Universe pageants.
Other presidential candidates – among them Clinton, former Florida Gov. Jeb Bush and GOP Sen. Lindsey Graham – have criticized Trump for his comments.
But Trump has remained consistently defiant.
"These aren't just Mexican people," he told NBC News. "Mexico doesn't want people, and they're forcing them into our country, and we're taking them and putting them in our jails and our hospitals, and we're paying them money through different sources. It's a disgrace."
What will allow him to win over Latino voters, he believes, is his ability to create jobs.
"Hillary Clinton is not going to be able to create jobs, I will tell you right now," he said. "Neither is Jeb Bush going to be able to create jobs. I will create jobs and the Latinos will have jobs that they don't have right now. And I will win that vote."
Trump had particularly sharp words for Clinton, whom he called "the worst secretary of state in the history of our nation."
"Hillary's weak on immigration," he said. "I might be divisive on immigration, but she's weak on immigration, which is far worse."
Trump pushed aside suggestions that the companies that have ditched him in recent weeks, including NBC, Macy's and Serta, the mattress company, are actually hurting his business.
"This is too important. Yeah, I'm losing some contracts. Who cares?" he told NBC. "They're weak and they want to be politically correct. Some of them have already apologized to me and said they made a mistake."
Like us on Facebook
Follow us on Twitter & Instagram