HAIFA, Israel – Songs about stabbing Jews to death -- including one by the winner of the Arab equivalent of "American Idol" -- are all the rage on West Bank airwaves, a year after the twisted hit parade featured calls for running down Israelis with cars.
The youth of the Palestinian territories are being bombarded with funky tunes and catchy lyrics about murder and martyrdom on government-controlled radio amid the ongoing wave of knife attacks plaguing Jerusalem. So far, a dozen Israelis have been killed and scores injured, while more than 70 Palestinians have been killed carrying out attacks or in mob violence directed at Israeli security forces. Critics say Palestinian leaders, and now pop stars, are blatantly encouraging the attacks.
"We're going down from every house with cleavers and knives," goes the refrain in "I'm Coming Towards You, My Enemy." The same song asks, "How will you escape the ring of fire while the crowds are blocking the way?"
"We're going down from every house with cleavers and knives."
Videos posted on YouTube to accompany the songs regularly feature images of Palestinian terrorists stabbing Jews, and then being "martyred" by Israeli forces, or cartoon animations of the Palestinian struggle glorifying the knife as the symbol of resistance.
The ruling Fatah party of Palestinian Authority Chairman Mahmoud Abbas has done little to suppress the songs that pulse to the same modern Arabian pop beat and feature similar, incendiary lyrics on numerous competing chart successes. Other big current hits sweeping the Palestinian charts and providing a soundtrack to the bloody violence include "Jerusalem is Bleeding," "Continue the Intifada," and "Stab the Zionist and say God is Great."
Earlier this week, there were two more attempted stabbing attacks carried out by children as young as 11 on Jerusalem's light railway service, one of which was foiled by passengers.
"The PA and Fatah movements use all the communications infrastructures at their disposal to fuel the incitement on official PA media, on PA TV, Fatah Facebook, and on Twitter," Nan Jacques Zilberdik, senior analyst at Jerusalem-based Palestinian Media Watch, told FoxNews.com. "PA officials with their own Facebook pages post this stuff and share these songs, making statements about terrorists being martyrs or heroes.
"We see the leadership trying to fuel the rage and enflame the Palestinian street by all the time repeating the libel that Israel is faking the attacks," Zilberdik added. "They say that all the terrorists are really just innocent Palestinian victims who were walking by Israeli soldiers on the way to school or on the way to the mosque, then Israel shoots at them and plants knives at the scene. It plays into the constant demonization of Israelis and Jews, but is not something new."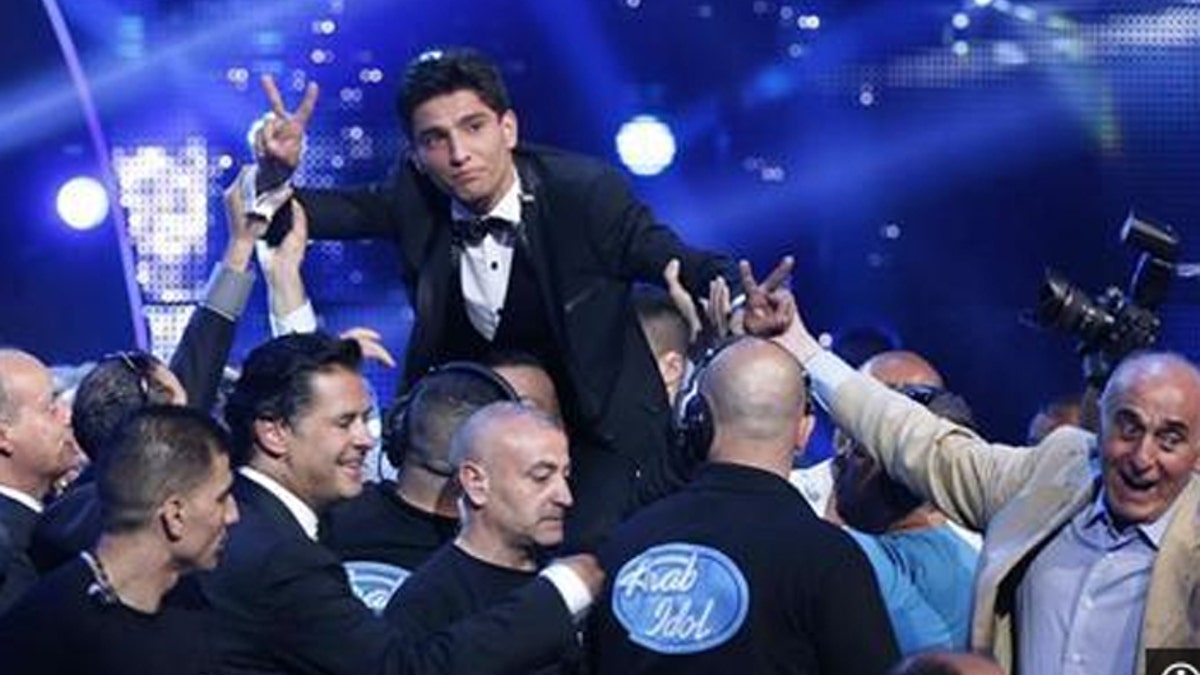 The songs spread through social media, on Palestinian radio and television and through black market street vendors who burn CDs that sell for the equivalent of $2.50. One of the poster boys of the disturbing craze is Muhammed Assaf, a resident of Gaza who won the 2013 "Arab Idol" TV talent show that attracts huge audiences across the Middle East. Soon after his victory, the 23-year-old, born and educated in a United Nations-sponsored refugee camp, was appointed regional youth ambassador by the UN organization, known as UNRWA.
The lyrics of one of his recent hits, Ya Yumma, are accompanied by images of rioting young men, the iconic Golden Dome in Jerusalem's Old City, and the shroud-wrapped body of a dead Palestinian. Assaf sings, "Salute the determined people who are resisting the occupiers, Fight back until you defeat the aggressor."
Despite the fact that his songs often glorify violence, UNRWA has continued to endorse and promote Assaf as its example to Palestinian youth.
"As a "child of UNRWA," Mohammed Assaf is the ideal individual to be the first goodwill ambassador in the more than six decades of our history," a current statement on UNRWA's website reads. "His mother, too, was an UNRWA teacher… With the universal language of his music, he carries the message of UNRWA and young Palestine refugees to new audiences."
UNRWA is wholly funded by the international community and has repeatedly been accused of turning a blind eye to Palestinian incitement against Israel. Its critics accuse the humanitarian organization of allowing Hamas to dictate a warped educational agenda at its schools in Gaza that is both anti-Israeli and anti-Semitic, something UNRWA strongly denies. However, despite conclusive evidence of Assaf's songs inciting Palestinian youth to violence, UNRWA apparently remains steadfast in its admiration for the singer nurtured in its system.
Zilberdik believes there is a significant misconception in many quarters in understanding exactly what incitement is.
"There is a tendency, certainly abroad, to think that it must be openly coming out and saying 'Kill the Jews,' but incitement is so much more than that and there are so many subtle ways to promote the same message. So when you call a killer a "hero" or a "martyr" you are actually saying that what he or she did is good, and that is an indirect way of saying, 'You should go and do that, too.'"