Spanish National Court judge denies 7 suspected jihadist recruiters bail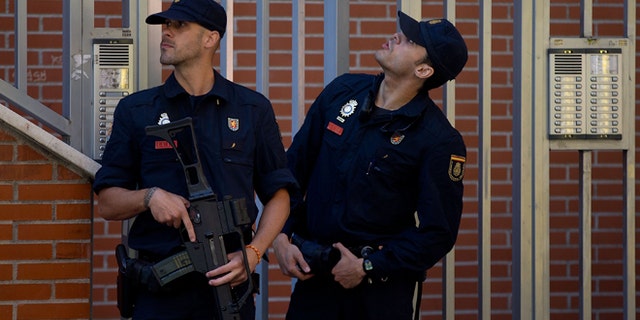 NEWYou can now listen to Fox News articles!
MADRID (AP) – Seven suspected members of a jihadi cell in Spain were denied bail Sunday for allegedly urging attacks to be carried out in the country and recruiting people to be sent to fight for the Islamic State (IS) group in Iraq and Syria.
National Court judge Javier Gómez Bermúdez had spent most of the day questioning eight suspects who were arrested on Friday before releasing one and ordering the other seven to remain in custody.
Gómez Bermúdez must decide whether to continue an investigation or set a trial date for the suspects, who are Spanish. Five of them are of Moroccan origin.
The judge said that police had been investigating the cell since June 2014 and there was evidence it was made up of at least 10 members.
Gómez Bermúdez said the suspected leader of the cell — whose name wasn't released — had a website that incited jihadi terrorism and had been in possession of a video entitled "Islamic State Training in Spain" at the time of his arrest.
Police made the arrests in the northeastern provinces of Barcelona and Girona, and in the central regions of Avila and Ciudad Real.
Those arrested are suspected of participating in an intense jihadi propaganda campaign among the immigrant community in Spain, especially Spaniards of Moroccan descent.
Spain has arrested dozens of suspected jihadist militants and recruiters in recent years.
Most of the arrests have been in Ceuta and Melilla, two Spanish city enclaves in North Africa that are surrounded by Morocco to the south and the Mediterranean Sea to the north.
On Tuesday, a judge jailed a woman for allegedly belonging to IS and police said they had neutralized a jihadi cell with the arrests of two people in Ceuta who were part of a group allegedly planning to carry out attacks.
Like us on Facebook