North Korea fires 2 short-range missiles into sea, US officials say
North Korea fired two short-range missiles into the sea off its eastern coast, U.S. officials told Fox News late Wednesday, in the latest apparent provocation from Kim Jong Un's regime.
The missiles flew about 267 miles from an area near the eastern city of Wonsan, South Korea's Joint Chiefs of Staff said, adding that said the South Korean and U.S. militaries were analyzing details of the launches.
It came just as National Security Adviser John Bolton was wrapping up a visit to Seoul. Bolton, a harsh critic of North Korea, was meeting with South Korean officials to help settle a trade dispute between Seoul and Japan.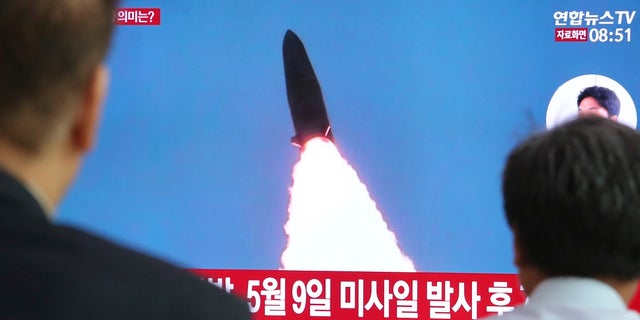 Experts said the projectiles could be KN-23s, the same kind that North Korea had fired in May. They noted that Thursday's test could be a negotiating ploy by North Korea to gain the upper hand in future talks.
The rogue nation has sought sanctions relief to revive a dilapidated economy while the U.S. has called on Kim to take greater steps toward nuclear disarmament. North Korea has ramped up pressure on the U.S. and South Korea in recent days over their expected summertime joint military drills and reportedly has refused to accept food assistance from Seoul over the exercises, which it's viewed as aggression.
The launches were the first since Kim and President Trump met last month at the demilitarized zone separating North and South Korea and agreed to resume nuclear negotiations, which had been deadlocked since a second summit in Vietnam this past February collapsed after disputes over U.S.-led sanctions.
North Korea said last week it may lift its 20-month suspension of nuclear and missile tests to protest the expected military drills between the United States and South Korea that Pyongyang says are an invasion rehearsal.
Pyongyang last tested weapons in May, when it launched short-range missiles and smaller rockets. Later that month, Kim called Bolton a "warmonger" and "defective human product" after he called the tests a violation of U.N. Security Council resolutions.
This past Tuesday, Kim and leaders of the country's missile program inspected a large, newly-built submarine, state news agency KCNA reported.
Experts said the vessel likely had three launch tubes for missiles. North Korea has around 70 submarines, South Korea has said, but experts says they mostly have just a single tube.
Thursday's launches came as tensions in the Korean Peninsula flared up after South Korean fighter jets fired warning shots at a Russian reconnaissance plane earlier this week.
CLICK HERE TO GET THE FOX NEWS APP
The South said the plane violated its airspace Tuesday. Seoul said before the incident, Russian and Chinese planes flew into South Korea's air defense identification zone, prompting South Korean military jets to scramble.
Russia and China said they carried out a joint patrol in waters between the peninsula and Japan, but that none of their planes violated South Korean airspace.
Fox News' Jennifer Griffin, Lucas Tomlinson and The Associated Press contributed to this report.