South Korea disputes Trump's remarks on trade, missile defense system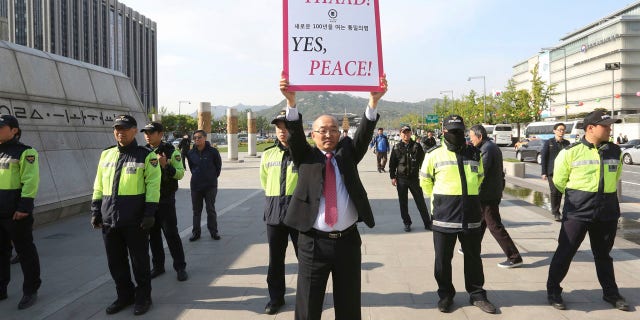 South Korea announced Friday that it has no plans to renegotiate a bilateral trade deal with the U.S. or to pay for the U.S. missile defense system being deployed in the region, disputing recent remarks made by President Donald Trump.
In an interview with Reuters news agency Thursday, Trump said that he plans to fix the "horrible" bilateral trade deal with South Korea and that he would also make them pay $1 billion for the THAAD missile defense system.
Woo Taehee, South Korea's vice trade minister, said the country was not notified of any trade renegotiation and that there had been "no pre-talks" with the U.S. regarding the five-year-old trade deal.
In a separate statement, South Korea's defense ministry said there is no change in its plan under which the U.S. covers the cost for operating THAAD, now being deployed in the country's southeast. Under an agreement reached during the administration of Trump's predecessor, Barack Obama, South Korea offers the land and facilities for THAAD but not the cost of operations, the Defense Ministry said.
The U.S. missile defense system, meant to deter North Korean aggression, has become a thorny issue between South Korea and China, which opposes it because its powerful radars can peer through not only North Korean but Chinese defenses. Chinese backlash over THAAD has been hurting South Korean businesses in China, South Korea's largest trading partner, and many in South Korea worry that the issue could damage South Korea's economic recovery.
The President's remarks could undermine recent attempts by Secretary of State Rex Tillerson's to stabilize the region with the help of the Chinese.
Tillerson confirmed in an interview with Fox News on Thursday China's commitment to implement sanctions on their own accord if North Korea continues to conduct nuclear tests.
Some observers said the President's remarks could infuriate South Korean voters and spark anti-U.S. sentiment less than two weeks before the country's presidential elections.
The Associated Press contributed to this report.