Some dispute authenticity of $450 million Leonardo da Vinci painting
The sale of a painting by Leonardo da Vinci for millions  on Wednesday in New York may have broken all the records, but some in the art world are disputing its authenticity.
The depiction of Jesus Christ holding an orb in a painting called "Salvator Mundi" sold for a world record of $450.3 million and was believed to be among the fewer than 20 paintings by the Italian Renaissance master in private hands.
Shortly after the record sale, however, art critic Jason Farago wrote in the New York Times that although he is not in the position to "affirm or reject (the painting's) attribution," he believes the so-called masterpiece is "a proficient but not especially distinguished religious picture from turn-of-the-16th-century Lombardy, put through a wringer of restorations."
Others have also expressed their skepticism whether the painting is by Leonardo.
A specialist in Italian Renaissance art at the Metropolitan Museum of Art in New York, Dr. Carmen Bambach, questioned whether the painting was solely painted by Leonardo in an Apollo art magazine review in 2012, writing that "much of the original surface may be by Boltraffio, but with passages done by Leonardo himself," according to a review in the Apollo art magazine in 2012.
Professor Charles Hope said he does not believe the painting is Leonardo at all. "I'm not a believer that this is a real Leonardo," he said, according to the Daily Mail.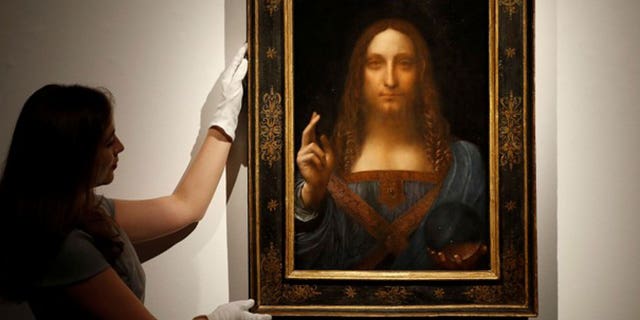 "I think it's exceptionally boring, and when you see it hanging next to some real Leonardos, it doesn't look good. Frankly, I think the claim that it's a Leonardo is ridiculous. Nobody in their right mind would think it was. The world is filled with near-Leonardos," he added.
But the old masters dealers are not taking the chatter by naysayers, assuring that the painting is indeed by Leonardo.
"All of the most relevant people believe it's by Leonardo, so the rather extensive criticism that goes 'I don't know anything about old masters, but I don't think it's by Leonardo' shouldn't ever have gone to print," British old masters dealer Charles Beddington told Bloomberg.
"Yes, it's a picture that needed to be extensively restored. But the fact that it's unanimously accepted as a Leonardo shows it's in good enough condition that there weren't questions of authenticity."
Arts dealer Rafael Valls, meanwhile, told the outlet that other artist's touch does not change the validity of the painting as "All old masters have had work done to them."
"They've all been scrubbed and cleaned, but when you think about a particular painting and say, 'oh it's by Titian, but a quarter of it was recreated by other restorers,' it still is what it is."