SKorean women scoff at fired Park aide's claim 'cultural difference' behind touching scandal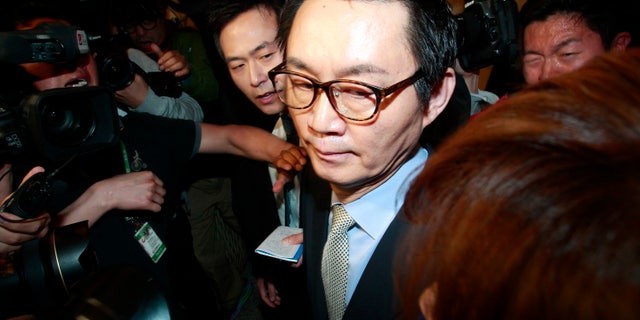 SEOUL, South Korea – A South Korean presidential spokesman who was fired after inappropriately touching a woman during a U.S. trip blames a "cultural difference" with America. Other South Koreans say the fault for such incidents truly lies with a society that allows powerful men to get away with harassment.
Five months after the country elected its first female leader, Park Geun-hye, last week's incident involving her spokesman Yoon Chang-jung marred her first trip to Washington as president. It also highlighted the gender divide that remains in South Korea, where women say they get paid less than men and are given fewer promotions.
There's an "unspoken consensus" among influential South Korean men that they can avoid punishment for sexual harassment, office worker Joo Insun said. She added that a former employer responded to her own claims of a colleague's misbehavior by scrutinizing her instead.
Details of Yoon's case remain unclear; Park's office simply said a "disgraceful incident" led to his dismissal. Washington police said a woman reported that a 56-year-old man grabbed her buttocks without permission. Yoon, who is 56, was not named in the report.
Yoon has said he lightly touched the waist of locally hired woman who had been assisting him in Washington. He called it a gesture of encouragement and rejected allegations that he sexually harassed her.
"I apologize if I hurt the guide due to a cultural difference. I didn't act with any sexual intent," Yoon said during a press conference in Seoul on Saturday. He also said, "Looking back, I realize I didn't know American culture well."
After a reporter asked if he meant that touching a woman without her consent would be allowed in South Korea, Yoon said, "No, it would not be accepted." When asked then why he was blaming a "cultural difference," he did not answer the question directly.
Yoon's comments have been widely derided, but they also strike a chord with many South Korean women.
Joo, 32, said she eventually stopped asking her previous company to punish a male colleague who sent her an article that encouraged people to have regular sex, highlighting specific parts. She said she felt she had more to lose in pressing the matter than her male colleague because her bosses questioned whether she had given an impression that she would tolerate such a request.
"They started evaluating what kind of woman I was," she said. "It turned into an attack on me."
In a survey released in December of more than 900 female government and public school workers, the Ministry of Gender Equality and Family found that 12 percent said they had been verbally or physically sexually harassed over the past year. Of those, 93 percent said they "simply put up with it." The report didn't include a margin of error.
Kim Yong-jick, a professor at Seoul's Sungshin Women's University and an expert on modern South Korean history, said many South Korean women are less aware of their rights than women in the U.S., making it easier for men to get away with sexual harassment.
"Powerful men have had illusions in male-centric South Korea that their power allows them the freedom to behave as they like," he said.
South Korea has a social climate that is more lenient toward sexual harassment, said Bae Jeong-weon, head of the Seoul-based Centre for Sexuality and Harmonious Life, which provides training on sexual harassment prevention. But she added that there has been a recent surge in complaints as awareness grows.
Chung In-sun, a 23-year-old college student, said there is a "shortage of awareness" about harassment, particularly among older men. But she also spoke about a time when she felt offended by a group of young men talking freely about sex in her presence.
Chung also said that women find it hard to travel alone in South Korea because of fears of sexual abuse from strangers.
In Seoul, the scandal over Yoon overshadowed what was widely viewed as a successful U.S. trip for Park, who met with President Barack Obama and delivered a well-received speech to Congress. In a meeting with aides Monday, Park offered a public apology over the incident.
South Korea has taken steps to toughen penalties against sexual crimes, and Park has named such crime as a major "social evil."