Serbian PM warns of far-right surge ahead of general vote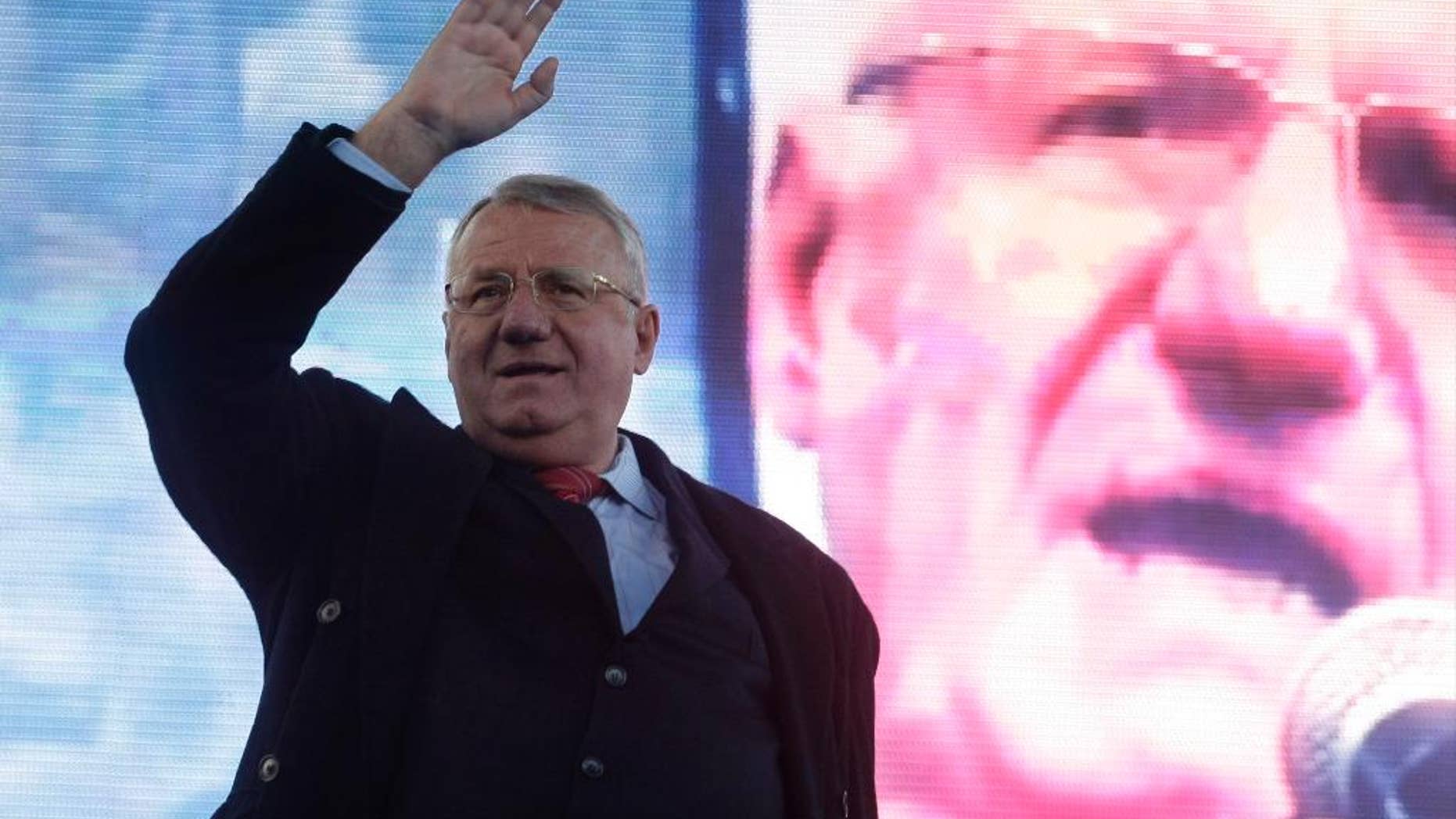 BELGRADE, Serbia – Serbia's prime minister warned Friday the country could backslide into its dark past if far-right parties win an upcoming general election after receiving a boost from the acquittal of their leader by a U.N. war crimes court.
The release of Vojislav Seselj, who was charged with atrocities during the Balkan wars, could pave the way for the firebrand politician to become a key political powerbroker after the April 24 vote. With a surge in pro-Russian and right-wing sentiments in Serbia, Seselj's Serbian Radical Party has a good chance to return to parliament after missing out two years ago.
"Serbia is at a crossroads, political, economic and moral," Prime Minister Aleksandar Vucic said Friday, adding that pre-election polls show his ruling populists "have never been closer to losing the election."
U.N. prosecutors had charged Seselj, 61, with crimes including persecution, murder and torture and had demanded a 28-year sentence for his support of Serb paramilitaries during the region's bitter, bloody wars in the early 1990s. But in a majority decision, the three-judge panel said Thursday there was insufficient evidence linking the politician himself to the crimes.
Vucic, who was Seselj's close ally during the wars but has become a pro-European Union reformer, warned of "political turbulence" caused by the "politically inspired" verdicts recently issued by the Hague tribunal, including a 40-year prison sentence for former Bosnian Serb leader Radovan Karadzic. Vucic said the court "has failed to fulfill its basic role" of reconciling the Balkan nations, but has instead "slammed a nail in the coffin of the sleepy Balkans."
He suggested the timing of the two verdicts by The Hague court was playing into hands of the extremists because it coincided with the pre-election campaign.
Seselj advocates Serbia's "integration" with Russia and abolishing the government's bid to join the EU. He says he has not given up the "Greater Serbia" nationalist goal that calls for expulsion of non-Serbs from parts of the Balkans and redrawing of its borders.
"The EU is not our friend and we cannot hope for anything good from them, so we the Serb radicals will make this election a referendum that will be the choice between the EU and Russia," Seselj said after his acquittal.
"We have a problem with his policies and we will strongly oppose them," Vucic said, adding they "push Serbia into the past, instability, economic problems and isolation from the region and the rest of Europe. I will personally fight such policies strongly."
"It would be a great danger if such irresponsible forces would gain majority support from the people," Vucic said. "I appeal to our citizens, because I know how easily attractive such policies can be and how easily they can steer you into an abyss."
___
Associated Press Writer Jovana Gec contributed.