Security Chief: Norway Attacks Work of Lone Wolf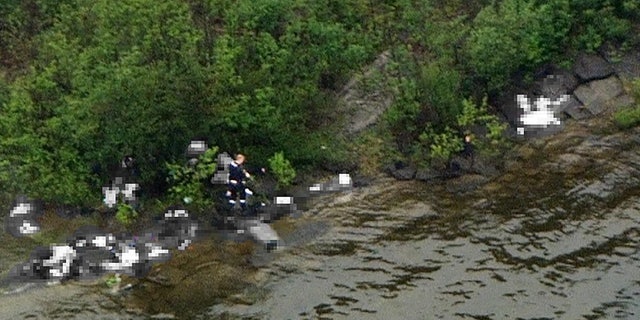 OSLO, Norway – The man who admitted killing 76 people in a bombing and youth camp massacre last week is a sociopath who acted without accomplices or a network of like-minded right-wing extremists, and kept his plans to himself for more than a decade, Norway's top police official said Thursday.
Levels of right-wing violence across Europe have been generally low and there are no clear indications of imminent danger from networks of extremists, security officials said. But they expressed concern that Norway attacker Anders Behring Breivik could inspire imitators among the continent's extremist, anti-immigrant fringe. Particularly worrying are similar loners who give no clues of their intentions to others before acting, officials said.
European Union counterterrorism officials held a special meeting with Norwegian representatives Thursday dedicated to preventing future extreme-right attacks, saying they would try to share information faster and better understand what triggers the rare radical to turn to violence.
"Clearly, one major risk is that somebody may actually try to mount a similar attack as a copycat attack or as a way of showing support," said Tim Jones, principal adviser to the EU's counterterrorism coordinator.
Police were on high alert across Europe: Finnish officers said they had arrested an 18-year-old man who ordered 22 pounds of fertilizer from Poland to build make explosives. Police said the case appeared to have no connections to the massacre; the national broadcaster YLE cited police as saying the man told them he wanted to make fireworks.
Breivik claims he carried out the July 22 attacks as part of a network of modern-day crusaders plotting a revolution against a multicultural Europe, and that there are other cells ready to strike.
But investigators have found no signs -- before or after the attacks -- of a larger conspiracy, Janne Kristiansen, the director of the Norwegian Police Security Service told The Associated Press.
"It's a unique case. It's a unique person. He is total evil," she said. "On the information we have so far, and I emphasize so far, we have no indication that he was part of a network or had any accomplices, or that there are other cells."
Kristiansen told AP Breivik doesn't appear to have shared his plot with anyone, and lived an outwardly lawful and moderate life before carrying out the attacks with "total precision."
Europol, the European police agency said it had agreed with police chiefs from Norway, Denmark, Finland, Germany, Poland, Sweden and Britain that its operations center in The Hague, Netherlands, would be expanded to include their senior experts.
The agency said that team would "urgently assess the wider implications of the incidents in terms of the threat from right-wing extremism across Europe."
The new network held its first meeting Wednesday, Europol said.
Europol's 2010 report, which covers the calendar year 2009, says there were four failed, foiled or successful right-wing attacks in 2009, all of them in Hungary.
Two security officials said there didn't appear to be any imminent threats associated with Breivik to countries around Europe, but that didn't mean a regional investigation would be ended. They spoke on condition of anonymity because of the sensitivity of the information.
Experts said Breivek was successful in his attacks partially because he did act alone.
"The Norwegians have his computer," said Bob Ayers, a London-based former U.S. intelligence officer. "If there was significant dialogue, there would have been a footprint. Acting alone gave him the advantage of not being watched by security personnel.
Breivik has admitted that he set off a car bomb in the government district of Oslo, killing at least eight people, then drove several miles (kilometers) northwest of the Norwegian capital to an island where the youth wing of the ruling Labor Party was holding its annual summer camp. He arrived at Utoya island posing as a police officer, then opened fire on scores of unsuspecting youth, executing them one after the other as they tried to flee into the water. Sixty-eight people died, many of them teenagers.
There has been no large-scale violence by the right-wing in Germany in years, but the Office for the Protection of the Constitution said it considered some 9,500 of the far-right in Germany as potentially violent, "with the readiness to use violence to achieve their political goals on the rise," the Office for the Protection of the Constitution said.
German Interior Minister Hans-Peter Friedrich told the Rheinische Post newspaper after the attacks that Germany's intelligence agencies had the far-right groups under "intensive" surveillance, but that they were still a danger.
"Among the right extremists we know of some who could be dangerous, but they're not the problem -- those who we have an eye on -- but rather those who radicalize in secret."
Investigators will interview Breivik again on Friday and will focus on whether there is "any more danger," police attorney Paal-Fredrick Hjort Kraby told reporters.
Police have not turned up any signs that copycat attacks might be committed, Kraby said.
But they are clearly concerned. Kraby said Brevik's next hearing will be closed "just in case he's able to send messages by code" to associates.
Police have so far only interviewed the Norwegian suspect once, in a seven-hour session the day after the attack. Kraby said Breivik is in contact only with his lawyer and investigators. He also said the Norwegian police have been in touch with the FBI regarding the attacks, but he did not elaborate.
The national sense of heartbreak is being renewed daily as police slowly release names of the dead. Later Thursday, 24 names were added to the list, including 23-year old Tamta Lipartelliani from Georgia who died at the camp, setting the confirmed total by police at 41.