Second fugitive identified in Paris massacre, officials reveal
A second suspect directly involved in the Paris massacre is on the loose four days after the attacks, French officials revealed Tuesday, as German police said a third suspect in custody apparently posed as a refugee.
French officials did not identify the second fugitive. Speaking to The Associated Press, they said an analysis of the series of attacks on Nov. 13 indicated that another person directly involved was unaccounted for.
Meantime, police said they arrested an Algerian man linked to the attacks, at a refugee center in western Germany, Reuters reports.
Police say he apparently told Syrian refugees at the center that fear and terror would be spread in the French capital. Police are looking into whether he's an accomplice or a confidante of the Paris attackers, Reuters adds. At least two other suspects reportedly entered Europe through Greece posing as refugees.
Germany's top security official said a Syrian passport found with one of the Paris attackers may have been a false flag intended to make Europeans fearful of refugees, but said he could not confirm it conclusively. Interior minister Thomas de Maiziere told reporters in Berlin that it was "unusual that such a person was faithfully registered in Greece, Serbia and Croatia, even though we're usually pressing for registration to take place and lament that it isn't always done properly."
He said the multiple registrations by a person using the passport were "evidence that this was a trail that was intentionally laid, but it can't be ruled out at the moment that this was an IS terrorist who came to France...via Germany as a refugee."
The details emerged as the surviving brother of the first fugitive spoke to French television and begged his brother to turn himself in.
Mohamed Abdeslam said his sibling, Salah, was devout but showed no signs of being a radical Islamist. He told the French channel BFM, "Of course I call on him to turn himself over to the police. The best would be for him to give himself up so that justice can shed all the light on this."
A third brother, Brahim, was among the suicide bombers in Paris.
Mohamed Abdeslam was arrested and questioned following the attack and was released Monday. He said Salah prayed and attended a mosque occasionally but dressed in jeans and pullovers and showed no signs of being a radical.
"The best would be for him to give himself up so that justice can shed all the light on this."
Brahim and Salah had rented homes near Paris in the days before the attack, a French judicial official told The Associated Press. That official said one brother used an online rental site to book lodging at a hotel in the southeastern suburb of Alfortville Wednesday. The other brother rented a house in the northeastern suburb of Bobigny three days before the attack, according to that official.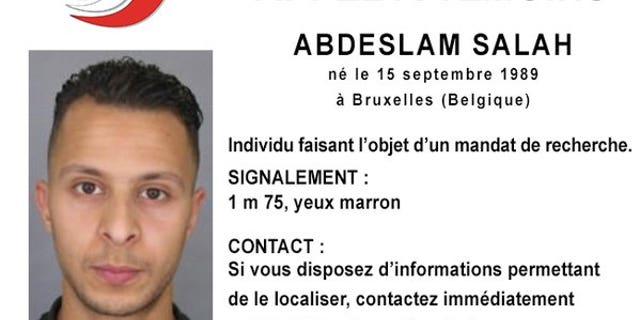 Also Tuesday, lawyers for two other suspects admitted their clients drove to France to pick up Salah Abdeslam early Saturday.
Investigators say the Belgian men, 27-year-old Mohammed Amri and 21-year-old Hamza Attou, may have supplied some of the suicide bombs used in Friday's attacks, since ammonium nitrate, a fertilizer that can be used to make explosives, was discovered in a search of their home. Their attorneys would not comment on those accusations.
Amri's lawyer, Xavier Carrette, says his client denies any involvement in the attacks. Carrette says the only thing Amri admits "is having been in France to pick up a friend."
Attou's attorney, Carine Couquelet, says Amri drove his own car and that her client went along to keep Amri company. Couquelet says that around 4 a.m. Saturday, the pair picked up Abdeslam and they then returned to Brussels.
Amri and Attou were held on charges of terrorist acts and being part of a terrorist conspiracy. They were arrested in the Molenbeek-Saint-Jean neighborhood of Brussels, a district linked to radical plots and the site of heavy police activity Monday.
Salah Abdeslam had also traveled to Austria, entering from Germany in September with two unidentified companions, according to Karl-Heinz Grundboeck of Austria's interior ministry. He said Abdeslam's identity was established during a routine traffic check.
On Tuesday, French police also circulated a photo of one of the suicide attackers who targeted the French national stadium while asking for information from anyone who recognizes him.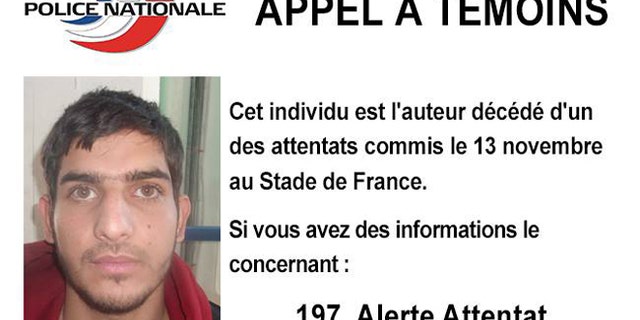 National police published a photo of the suicide bomber on its Twitter account Tuesday. A total of seven attackers died in the Nov. 13 rampage, but only five have been publicly identified so far. The photo was not named by police.
Police in Paris say 16 people have been arrested in the region and detained since Sunday in relation to the attacks.
A Paris police statement on Tuesday said that there have also been 104 police raids, and six firearms have been seized since a state of emergency was declared on Saturday. Police say that these arrests and raids are targeting "people, arms and objects likely to be linked to activities of a terrorist nature."
The Eiffel Tower was closed again Tuesday, one day after it reopened following the attacks. Spokeswoman Marthe Ozbolt did not say why the tower was closed, but alluded to the current situation in the city.
Also, two French officials say that a car found in northern Paris with Belgian license plates could be linked to Friday's attacks. The black Renault Clio with a shattered front passenger window was discovered Tuesday near the commuter train line that links to France's national stadium, a site targeted by three suicide bombers.
It's unclear how the window was broken. This is the third car identified as having possible links to the Paris attacks.
Belgium also vowed to deploy up to 300 extra soldiers to help provide security in its major cities, bringing its total number of troops on the streets to 520. A government statement on Tuesday said the extra soldiers would allow police to take on additional duties since authorities raised the threat level over the weekend.
Train travelers from Paris to London received pamphlets from British police asking for witness accounts, photos, video and cell phone footage from the attack sites. Eurostar personnel were seen handing out the sheets Sunday night before the customs section of the St. Pancras International terminal.
The Associated Press contributed to this report.