Saudi blogger sentenced to 1,000 lashes to be flogged again 'soon,' wife says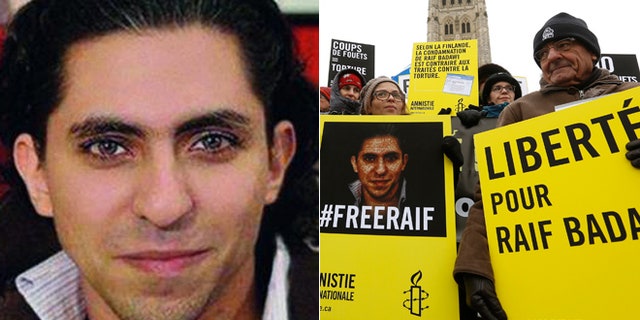 Saudi Arabia is set to resume the flogging of Raif Badawi, the blogger whose first 50 lashes became the center of international outcry, according to his wife, The Telegraph reports.
Ensaf Haidar said she's been told by an "informed source" the punishment will be administered in prison. She is currently living in Canada with the couple's children.
Badawi has been behind bars since 2012 and is currently serving a 10-year sentence after being convicted in 2014 of breaking Saudi Arabia's technology laws and insulting Islamic religious figures through his blog, "Saudi Arabian Liberals."
He was also sentenced to 1,000 lashes over 20 weekly sessions and fined $266,000. The lashings were halted after a team of doctors deemed Badawi unable to endure further beatings.
The first 50 lashes were administered in a public square in Jeddah in January and prompted international concern. The UN commissioner for human rights Prince Zeid Al-Hussein called the sentence "cruel and inhuman punishment," while key Saudi allies America and Britain also issued statements of concern.
Haidar has warned that Badawi may not be physically strong enough to bear the full punishment and has pleaded with King Salman for his release.
"I call on his Majesty King Salman to gracefully end my husband's ordeal and to pardon him," she said. "I also appeal to his Majesty to allow him to be deported to Canada to be reunited with his family and children, who have been deprived of their father for more than four years."
Haidar has launched an international campaign to free Bawadi and has called him a victim of free speech.
Badawi came under fire with the dawn of the Arab Spring, when liberals were seen as a threat to the region's ruling regimes.
The Associated Press contributed to this report.