Sandy Hook Teacher Victoria Soto Recognized By Medal of Honor Society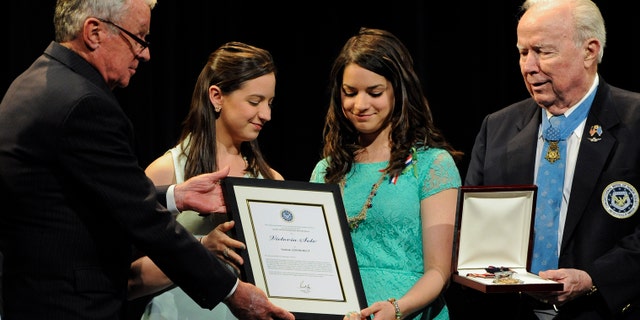 The 27-year-old teacher who died trying to shield her students during the bloody rampage at Sandy Hook Elementary School was honored Monday by an organization comprised of Medal of Honor recipients.
Victoria Soto and five other educators killed in the Dec. 14 massacre were picked by the Congressional Medal of Honor Society to receive the Citizen Honors Medal, the highest award given to a civilian.
The society said it chose the women to receive the medal after receiving dozens of nominations for their actions during the shooting.
The educators' families received the awards on their behalf at the ceremony at Newtown High School. Janet Robinson, who was superintendent of Newtown schools at the time of the shooting, told the audience that the women were not trained for anything like what happened on Dec. 14 but they acted to protect the children.
"There are no people more worthy of this award," Robinson said, according to The News-Times of Danbury.
While Soto reportedly hid children in a closet, two of the other educators honored, principal Dawn Hochsprung and school psychologist Mary Sherlach, are believed to have lunged, unarmed, at the gunman to try to stop him. Lauren Rousseau, read to her students as a gunman invaded the school, doing her best to keep them calm. Rachel D'Avino and Anne Marie Murphy were said to have wrapped their arms around the children as chaos ensued.
The women exemplified courage, sacrifice and selflessness in trying to protect students from gunman Adam Lanza, the Congressional Medal of Honor Society said in announcing the honor.
The organization also planned to honor every other member of the school's staff with a Certificate of Commendation.
"Many teachers and staff members disregarded their own safety that day to hide and protect the children in their care," said Harold Fritz, the society's president.
The society honored four other people with the award this year. They received their medals during an annual ceremony on March 25 at Arlington National Cemetery.
In February, President Barack Obama bestowed the nation's second-highest civilian honor, the Presidential Citizens Medal, on the families of the fallen educators.
Based on reporting by The Associated Press.
Follow us on twitter.com/foxnewslatino
Like us at facebook.com/foxnewslatino