Russia's floating nuclear plant heads for the Arctic amid geopolitical and environmental concerns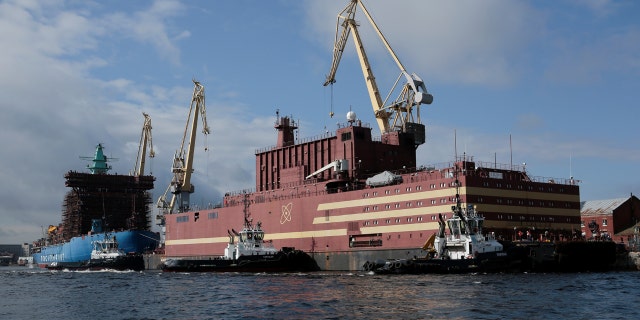 Dubbed a "Chernobyl on ice" and a "nuclear Titanic" by one environmental group, Russia's first floating nuclear power plant is almost ready for its maiden voyage to a remote port town across the Bering Strait from Alaska – a move seen by many as both Moscow's latest push to take control of the Arctic and one fraught with ecological peril.
Russian state nuclear company Rosatom, which developed and built the Akademik Lomonosov power plant, said that the unit docked last Saturday in the port city of Murmansk, along the Kola Bay in northwestern Russia. After taking on a supply of nuclear fuel, the floating power plant will be towed across the Northern Sea Route to Pevek on the East Siberian Sea, where officials say it is expected to replace a coal-fired power plant and an aging nuclear power plant sometime next year.
"Akademik Lomonosov is an unparalleled piece of engineering by Russian scientists," Rosatom Director General Alexey Likhachov said at a welcome ceremony in Murmansk. "It is a first-of-a-kind, reference project for mobile medium capacity range nuclear power units, a product we expect to be growing in demand in the coming years."
Likhachov added that the floating nuclear plant, which is expected to supply electricity to more than 50,000 people in the isolated Far East region of Chukotka, could become a model for island nations "where it is difficult, for various reasons, to set up a developed centralized power transmission infrastructure."
The floating nuclear plant has added another layer of worry for the U.S. military's senior command, who recently signaled its concern for "a mounting Russian footprint" in the Arctic as Moscow works to revitalize its northern fleet and military bases.
"They've got all their chess pieces on the board right now, and we've got a pawn and maybe a rook," Adm. Paul Zukunft, the commandant of the U.S. Coast Guard, said in March. "If you look at this Arctic game of chess, they've got us at checkmate right at the very beginning."
For their part, Russian officials have praised the floating nuclear plant both as a way to supply electricity to hard-to-reach areas in Russia, to provide power for oil and gas exploration and as a means of reducing greenhouse gas emissions responsible in part for global warming.
They've got all their chess pieces on the board right now, and we've got a pawn and maybe a rook...If you look at this Arctic game of chess, they've got us at checkmate right at the very beginning.
Environmental groups like Greenpeace, however, have voiced concerns about the safety of the Russia power plant.
"Nuclear reactors bobbing around the Arctic Ocean will pose a shockingly obvious threat to a fragile environment which is already under enormous pressure from climate change," Jan Haverkamp, a nuclear expert for Greenpeace Central and Eastern Europe, said in a statement.
The green group, along with pressure from the Baltic states, has already successfully lobbied Russia to move the loading of the Akademik Lomonosov from the densely-populated St. Petersburg to Murmansk, but there are major concerns about the transport across the Northern Sea Route to Pevek and the docking of the nuclear plant off the coast of the port town.
"The floating nuclear power plants will typically be put to use near coastlines and shallow water," Haverkamp said. "Contrary to claims regarding safety, the flat-bottomed hull and the floating nuclear power plant's lack of self-propulsion makes it particularly vulnerable to tsunamis and cyclones."
Despite the criticism and safety concerns, Russia is forging ahead with plans to produce more of the floating plants, which it says can operate non-stop without the need for refueling for between three and five years. At least 15 countries -- including China, Argentina Algeria, Indonesia, Malaysia and Argentina -- have shown an interest in hiring Rosatom to build them their own floating nuclear plants.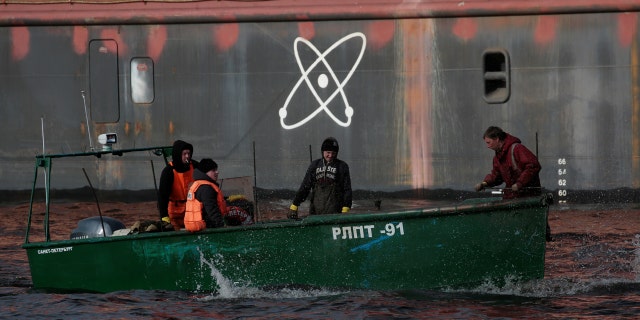 The Russian floating nuclear plant may seem like a new idea, but it is actually far from the first of its kind.
During the height of the Vietnam War, the U.S. Army turned a repurposed World War II Liberty ship into a floating 10 megawatt nuclear power plant and moored it in Gatun Lake in the Panama Canal. Named the Sturgis, the plant provided electricity to civil and military operations in the Panama Canal Zone until 1976, when it was decommissioned.
The decommissioning process is still taking place at the Port of Galveston in Texas, but so far more than 99 percent of the vessel's radioactive parts have been transported to waste facilities.
"When the Liberty Ship was converted into a floating nuclear reactor back in the 1960's, they never intended for it to be taken apart," Baltimore District Project Manager Brenda Barber of the U.S. Army Corps of Engineers said in a 2017 press release. "It was built to house a nuclear reactor with thick elements of steel, lead and concrete barriers which provided protection for the workers and the public during her operations."