Russia preps for Confederations Cup amid fears of violence, racism, terror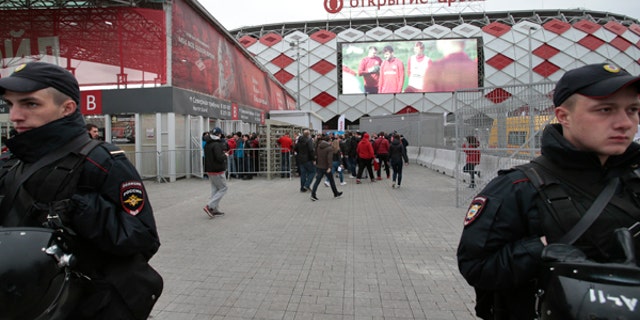 The Confederations Cup is like the dress rehearsal for the World Cup. It's a chance for some of the best national teams from around the globe to gauge their opponents, figure out tactics and generally work out any kinks before they take the field the following summer.
It is more importantly, however, a chance for the world to see how prepared the host nation – Russia, in this case - is to host the World Cup. And with the 2017 Confederations Cup set to kick-off on Sunday there are a number of pressing issues still looming about Russia's readiness.
Safety is the biggest concern among foreign visitors heading to Russian amid the threat of Islamist terrorism, hooligans, anti-corruption protesters and any crackdown by the country's security forces.
Russian President Vladimir Putin has imposed a package of security measures, but faces criticism from observers who say his order could hamper ordinary Russians' lives and stifle dissent.
The measures are based on the 2014 Winter Olympics in Sochi, which had a single host city and sports facilities far from inhabited areas. The June 17-July 2 Confederations Cup has four host cities and next year's World Cup will have 11.
"Sochi was easier," argues Russian author Andrei Soldatov, an expert on the security services. "Now we're talking about many cities. It's an unusual and dangerous situation."
Stadiums will have airport-style security, but there have been teething troubles. In a notable setback, a Russian league game last month was used to test Confederations Cup security, but instead stood out for the many fireworks smuggled in by fans.
Despite this Russian officials say the tournament is safe.
"No direct threats against participants or guests" have been uncovered, the senior Federal Security Service official in charge of tournament security, Alexei Lavrishchev, said last week. As for security measures, "law-abiding citizens have nothing to worry about."
For years, Russia's security services focused heavily on Islamist groups from the restive North Caucasus, where Russian forces fought two wars in the 1990s and early 2000s.
A bombing on the St. Petersburg subway April 3 killed 14 and ended a three-year run for Russia without a major attack outside the North Caucasus region.
Russia's major train and subway stations are equipped with metal detectors as standard, but often only a few travelers are examined in detail, and sometimes the equipment is switched off altogether. Procedures have been tightened in the St. Petersburg subway following April's bombing, and ahead of the tournament, but many Moscow subway stations seem largely unchanged.
Airport security is tight following bombings of two planes in 2004 and a Moscow airport in 2011. By law, passengers and baggage are scanned on entry to the terminal.
Racial profiling is common for Russian law enforcement in major cities, with people of Asian appearance routinely pulled over for document checks in subway stations. Foreign fans wearing team colors are less likely to be approached.
Besides terrorism, soccer hooligans – and the violence and racism that accompanies them – are seen as a major concern for the Confederations Cup.
It's been a year since Russian fans fought running battles with England supporters at the European Championship in France, and Russia is keen to avoid a repeat.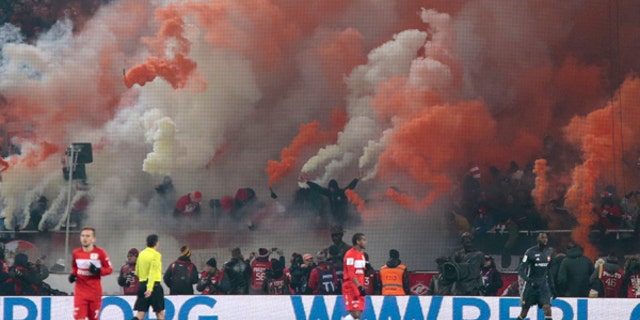 A repeat seems unlikely, given that few foreign fans are expected at the Confederations Cup and Russia has no rivalry with its group stage opponents New Zealand, Portugal and Mexico.
As they prepare for the World Cup, Russian authorities have compiled a blacklist of 191 fans banned from attending games. To attend a game, a ticket isn't enough — you'll need a "Fan ID" issued only after your personal information has been examined by Russian authorities.
There will be a heavy police presence, particularly at stadiums, and restricted alcohol sales nearby.
While Russia has made some progress combating racism directed at players by fans or opposing players, a new report found that there is still a lot of work that needs to be done.
There were 89 racist and far-right incidents at Russian games in the 2016-17 season, slightly below the two previous seasons, according to Thursday's report by European anti-discrimination group FARE and Russia-based SOVA.
In one case, an African player complained of racist abuse by an opponent during a Russian Premier League game. In another case, a hardline fan group segregated part of a stadium for people of "Slavic appearance," the report alleges. Fans of Russian champion Spartak Moscow flew anti-Semitic banners.
FARE says Russia has made some progress, and that it didn't observe monkey chants or openly Nazi flags in any top-flight games this season. However, it warns far-right fans instead fly banners with concealed messages such as runes and number codes used by Nazi and ultranationalist groups.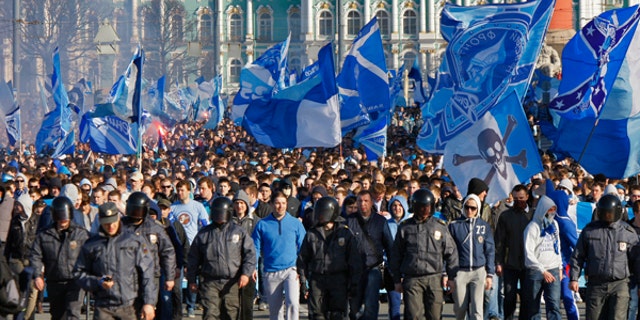 The RFU punished two clubs in the 2015-16 season for such banners, but didn't pursue any such cases this season — something which FARE's executive director Piara Powar says indicates it may be "turning a blind eye."
Then there is the specter of widespread protests against Putin.
With the world's eye on Russia, many people disenchanted with the Kremlin see the games as an opportunity to voice their anger at Putin on a global stage.
Putin, however, issued a decree stipulating that police must approve any public gatherings in or near host cities. Holding an unapproved event puts organizers and participants at risk of arrest. Monday's protests were a mix of officially sanctioned and unsanctioned events in different cities, and no major opposition events are planned for the upcoming weeks.
The decree also stipulates foreign visitors must register with the authorities within 24 hours on arrival in a new city, while Russians have three days. Hotels will register guests, but those using room-rental services like Airbnb face more difficulties.
"This decree needs to be seen as proclaiming a state of emergency in a certain part of the country for a period of time," said Russian human rights activist Pavel Chikov, who filed an unsuccessful Supreme Court appeal against a similar decree at the 2014 Olympics. "The main constitutional rights don't apply, or they apply with certain limitations."
Still, authorities may be reluctant to apply the law to the letter to avoid bad publicity, and mass arrests are unlikely. "There will be some kind of freedom," Chikov said.
The Associated Press contributed to this report.