Russia has forced nations to reshape military strategy, Lithuanian diplomat says
Like much of Europe, Lithuania – one of three Baltic states -- is on alert over growing concerns about Russia and its increasingly brazen military exercises but also the moves that are not as visible: Cyber steps that can take place via a keyboard or a mobile app.
On Monday, Lithuania's intelligence service said in its annual threat assessment that Russia now is capable of attacking the Baltic states with little notice, giving NATO allied forces limited opportunity to respond.
LITHUANIA CONFIDENT OF US SECURITY GUARANTEE OVER RUSSIA
Last year, President Dalia Grybauskaite reintroduced the military draft – which the country suspended in 2008 – attributing it to "the current geopolitical environment." The new policy calls for the recruitment of some 3,500 men annually.
The concerns in the Baltic States intensified in 2014, when under President Vladimir Putin, Russia annexed Crimea.
In a wide-ranging interview recently, Lithuania's U.S. ambassador, Rolandas Krisciunas, spoke to Fox News about his nation's concerns about Russia, its new military strategy in response to concerns about Russia, and his thoughts about the Trump administration.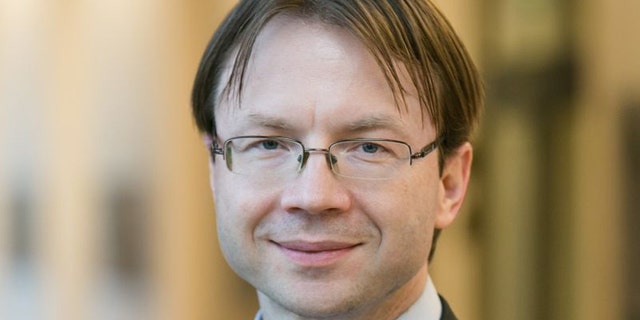 Fox News: Lithuania has taken steps in recent years to beef up its military in response to apparently bolder Russian military exercises. What prompted concerns?
Krisciunas: We have already seen the signs – what Russia did in Ukraine shows its behavior, and what's happening in Georgia. For a number of years, Russia liked to test our readiness. We saw a number of incidents when we were putting in cable for energy independence. There were interferences from military ships on the Russian side, which all of a sudden decided to do "military exercises."
We can count cyberattacks through the years, which have been in the thousands, not hundreds.
NATO PRESENCE IN BALTICS SENDS CLEAR SIGNAL, LITHUANIA SAYS
Fox News: Are these cyberattacks from Russia?
Krisciunas: They could come perhaps not from Russia itself, but from other countries from different servers. Looking at the nature and intention of the attacks, they probably came from Russia.
Fox News: What specifically has your country done to protect itself against Russian aggression?
Krisciunas: What we have done since Ukraine is bring back the conscription of the army, inviting young people to join. We have established a reaction force, which can react [to military threats]. We have planned an annual increase in defense expenditure, we have a commitment by our parliament to have 2 percent [of gross national product], and we plan to increase to 2.5 percent by 2020.
We are buying new technology. We also see opportunities to increase our cooperation with the United Sates.
There is the regular military, [threats of] a strike or occupation. But now it is also of a hybrid nature – brainwashing, propaganda. What we have done is go to a hybrid strategy. The military must be able to move fast, to react to "Little Green Men," like the ones who were in Crimea.
If something happens in a small city somewhere in Lithuania, it could be people dressed like civilians who could be a foreign military force, they could take over state institutions, they could go to a railway station [under the guise of a demonstration] and disrupt traffic.
It was clear that we needed to adjust [to the new reality].
We changed the laws so that border guards, the military and the
police can now work together to respond to a hybrid situation, and control it.
Fox News: How likely do you think it is that Russia will strike in the old-fashioned military fashion?
Krisciunas: We don't contemplate it will, we don't expect Russia will challenge NATO, it would be very risky for Russia.
Fox News: So why all the changes in military strategy by Lithuania and other European countries?
Krisciunas: Because NATO must be ready. If NATO is ready, we don't expect any kind of attack. See, what Russia has done very well is to test us. Russia takes action then waits for the reaction.
So far, we have done everything right. We have battalions of NATO forces in each of the Baltic States.
If we enable Russia to doubt our readiness, that will provoke Russia. Weakness, not reacting, not being ready, and appeasing – that is what provokes Russia.
Fox News: President Donald Trump has expressed skepticism about NATO, what are your thoughts? Is your country concerned about what that may mean about future role of the U.S. in NATO?
Krisciunas: We met with [House Speaker] Rep. Paul Ryan, with the national security advisor and with Secretary of State Rex Tillerson, and we came away very optimistic. We agreed very strongly that we're in this together, the Baltics and the United States.
We are partners, we are not clients. Lithuania is not a big country, but we were in Afghanistan, in Iraq, we are everywhere. Lithuania said in the meetings that we're ready to double our efforts to fight ISIS.