Russia, China are North Korea's 'enablers,' Tillerson says
U.S. Secretary of State Rex Tillerson lashed out at Russia and China early Saturday, following North Korea's second test launch of an intercontinental ballistic missile – and reports that Kim Jong Un's regime was now capable of striking cities on the U.S. mainland.
Tillerson labeled the two U.S. rivals the "principal economic enablers" of North Korea's weapons programs, and called on them to ramp up efforts to curb the growing nuclear threat from Pyongyang.
"All nations should take a strong public stance against North Korea by maintaining and strengthening U.N. sanctions to ensure North Korea will face consequences for its relentless pursuit of nuclear weapons and the means to deliver them," Tillerson said.
China has reportedly pressed North Korea to abide by all relevant U.N. Security Council resolutions and cease any actions that could escalate tensions.
Meanwhile, President Trump condemned North Korea's action as "reckless and dangerous," and said the U.S. will take all "necessary steps" to protect itself and its allies.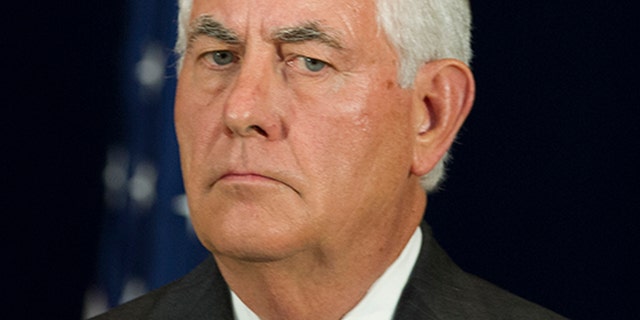 Kim expressed "great satisfaction" following the ICBM test. The missile traveled 620 miles until landing in waters near Japan, according to Pyongyang's official Korean Central News Agency.
Analysts now believe Pyongyang's weapons can hit U.S. cities such as Los Angeles or Chicago.
Tillerson said the U.S. wants a peaceful resolution to denuclearize North Korea, adding that Washington "will never accept a nuclear-armed North Korea."
The United States "will never accept a nuclear-armed North Korea."
The secretary of state was in contact with Japanese Foreign Minister Fumio Kishida. They planned to work closely with South Korea on a U.N. Security Council resolution to crack down on the rogue North, Japan's Kyodo News Service reported Saturday.
Following North Korea's ICBM launch, forces from the U.S. and its ally South Korea conducted joint military exercises in the region that included the launch of a barrage of missiles of their own.
South Korea has stepped up its military presence along the Korean Peninsula in recent weeks, and was considering deploying additional anti-missile systems. The recent ICBM test has also prompted South Korea to discuss with the U.S. increasing the warhead limit of their missiles from 1,100 pounds, to a ton.
The Associated Press contributed to this report.