Russia building up forces near Crimea amid tensions with Ukraine, satellite photos show
EXCLUSIVE – Two weeks after Russia fired on and seized three Ukrainian vessels in the contested Kerch Strait, satellite images obtained exclusively by Fox News on Sunday show that additional forces may be headed to the region.
In the images taken on Saturday, three Russian Ilyushin -76 cargo planes were spotted in the Dzhankoi airbase in Crimea.
The images, captured by Imagesat International, appear to show that Russia is continuing to step up and consolidate its military forces in the Crimea, which it annexed from Ukraine in 2014.
According to social media reports in Russia, Four IL-76 planes departed on December 6 from Anapa airport in Novorossiysk and landed in Dzhankoi.
One of those airplanes returned Saturday to Anapa, while the three remain on base.
Ilushin-76 cargo planes are used by the Russian Army to deliver outsized or heavy cargo unable to be carried on the ground. The cargo planes are also used for mobilizing large numbers of troops.
RUSSIA DEPLOYS S-400 SURFACE-TO-AIR MISSILE BATTERY IN CRIMEA, SEEN IN NEW SATELLITE IMAGES
The base of the elite unit of the Russia Airborne troops, the 7th Guards Mountain Air Assault Division is located in Novorossiysk, not far from Anapa.
The division's troop participated in the last round of violence between Ukraine and Russia in August 2014, in addition to the fighting in Syria.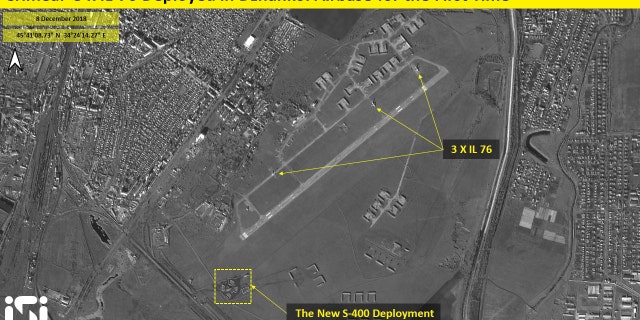 The IL-76 were spotted in the same airbase where the fourth S-400 surface-to-air missile battery was deployed, Fox News has previously reported.
The mobile S-400 missile has a range of up to almost 250 miles and can climb to an altitude of almost 19 miles. It's intended to bring down a variety of aerial threats, from aircraft to cruise and ballistic missiles.
The apparent troop buildup comes as Ukraine's defense ministry warned Friday that it will soon send naval ships through the Kerch Strait.
Ukraine has responded to the actions by Russia by introducing martial law for 30 days, a measure Kiev did not take even after Crimea's annexation and amid large-scale fighting between Ukrainian forces and Russia-backed separatists in 2014-2015.
As part of martial law, Ukraine has beefed up its forces on the border with Russia and called up reservists for training. Ukrainian Defense Minister Stepan Poltorak told reporters on Friday that his country intends to send naval ships through the Kerch Strait soon, saying that "otherwise Russia will fully occupy the Sea of Azov."
The Associated Press contributed to this report.