Rob Ford conspired in beating of sister's ex-boyfriend, lawsuit says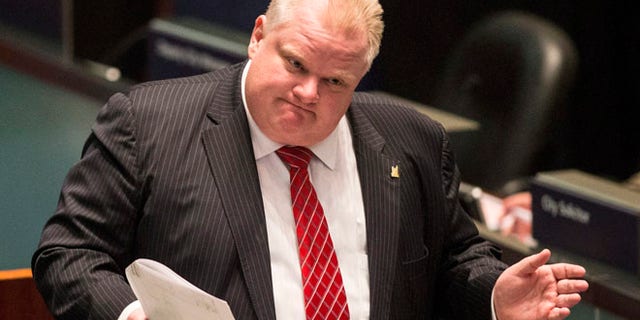 Toronto Mayor Rob Ford conspired with prisoners to shatter the teeth and break the leg of his sister's jailed ex-boyfriend to keep him quiet about the troubled politician's alcohol and drug abuse, a new lawsuit alleges.
Dennis Morris, Ford's lawyer, told The Globe and Mail on Wednesday that the allegations in the lawsuit are "without fact or foundation."
Scott MacIntyre, 46, was assaulted in the shower at the Toronto West Detention Centre in March 2012, The Globe and Mail reported. According to MacIntyre, the beating -- which allegedly came at the hands of a 300-pound violent criminal who once played football for Ford when he was a coach at a Catholic secondary school – came after several weeks of veiled threats from inmates.
"They wanted to know if I was going to do the right thing – was I going to keep my mouth shut," MacIntyre told The Globe and Mail.
MacIntyre, whom the Toronto Sun described as the ex-boyfriend of Ford's sister, Kathy, filed the lawsuit in Toronto on Wednesday. Along with Ford, Aedan Petros, who allegedly assaulted MacIntyre, and the Minister of Correctional Services were also named in the lawsuit.
MacIntyre seeks $1 million in damages.
Ford, 44, has been the subject of numerous scandals since last year, when reports of his erratic behavior – including him using crack cocaine during a "drunken stupor," bowling over a councilor during a frenzied meeting and being visibly drunk at a fast food restaurant earlier this month – came to light.
In November, the city council largely stripped Ford of his powers, but the mayor has registered to run for re-election this fall.
The Associated Press contributed to this report.