Rescuers to search for bodies in buildings collapsed in twin car bombs blast in Nigerian city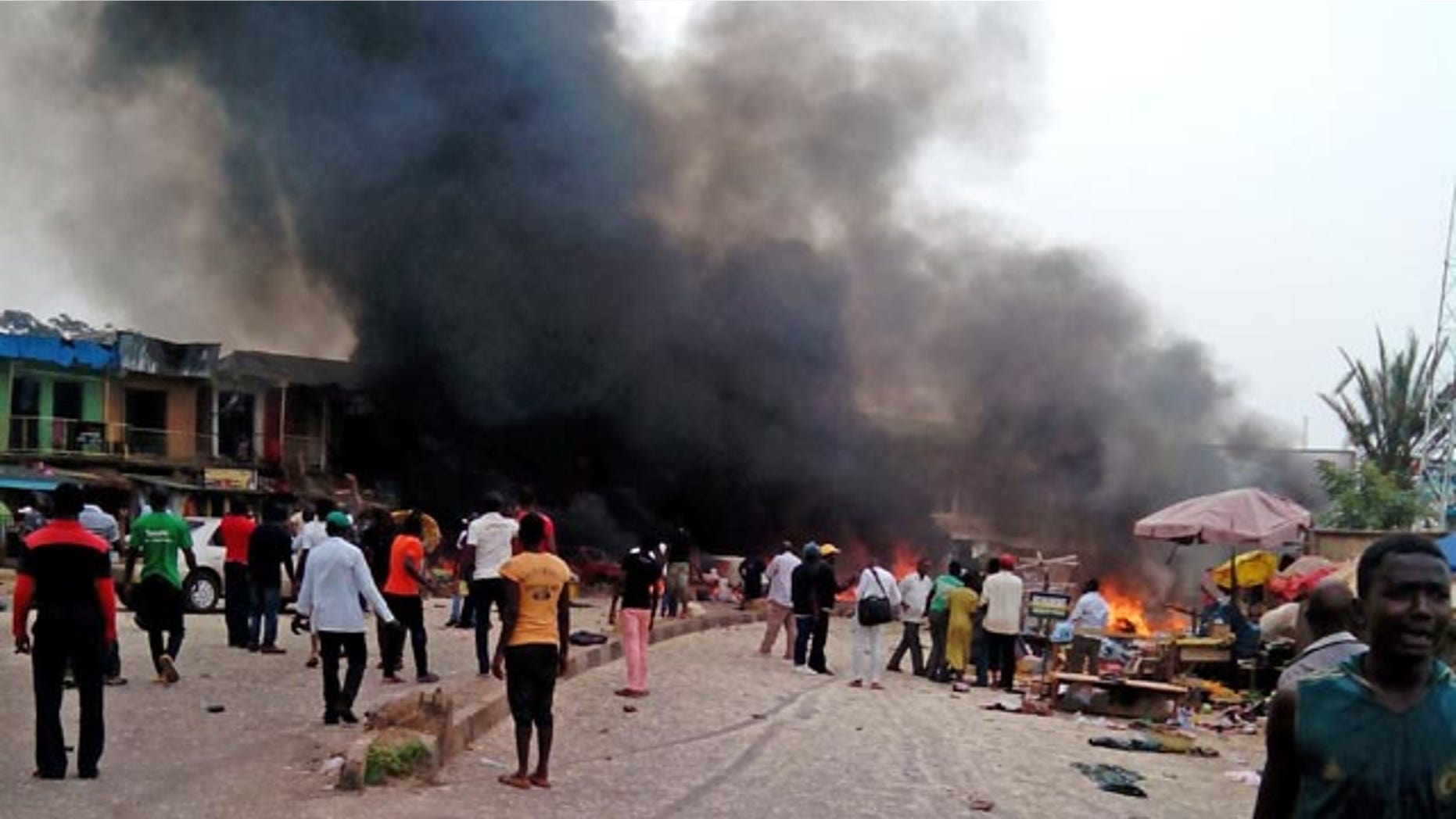 JOS, Nigeria – Rescue workers will dig through rubble to search Wednesday for more victims of twin car bomb blasts that collapsed buildings in a bustling marketplace and bus station in Nigeria's central city of Jos, an emergency official said. More than 118 bodies have been recovered and dozens of wounded are in hospitals.
Coordinator Mohammed Abdulsalam of the National Emergency Management Agency said they were waiting for earthmovers to arrive to do the heavy work before they can begin the grisly task.
The search for survivors was halted Tuesday night by raging fires ignited in buildings by the massive blasts, that were heard miles away. Firefighters fought through the night to douse the blazes that collapsed buildings, Abdulsalam told The Associated Press in a telephone interview.
At least 118 bodies were delivered to hospital morgues after the Tuesday afternoon blasts, and 64 wounded people were hospitalized, he said.
Hundreds of people gathered at hospitals and morgues, in search of missing loved ones.
"We expect to find more bodies in the rubble," Abdulsalam said.
President Goodluck Jonathan indicated that he blames the Boko Haram terrorist network for Tuesday's attack, assuring Nigerians their government "remains fully committed to winning the war against terror."
Outrage continues to grow at home and abroad over his government's failure to curb a 5-year-old Islamic uprising that grabbed international attention with the mass abduction of nearly 300 schoolgirls who the extremists are threatening to sell into slavery.
No group has claimed responsibility but Nigeria's homegrown Boko Haram terrorist network has been waging a bombing campaign.
On Monday a car bomb at a bus station killed 24 people in the Christian quarter of the northern Muslim city of Kano, where police later defused another massive car bomb. Two separate bomb blasts in April around another bus station, but in the central capital of Abuja, killed more than 120 people and wounded more than 200.
There was speculation Tuesday's blasts could have been aimed at igniting rivalries between Christians and Muslims in Jos, located on a volatile fault line dividing Nigeria's mainly Muslim north from the predominantly Christian south. Boko Haram wants to impose an Islamic state under strict Shariah law in Nigeria, though half the country's 170 million people are Christians.
The attacks on Monday and Tuesday took place after regional and Western leaders pledged "total war" on the militant group at a weekend summit in Paris.
The insurgency has become ever-deadlier, with more than 2,000 people killed this year compared to an estimated 3,600 between 2010 and 2013.