Rare Suicide Bomb Blast in Islamabad Kills 1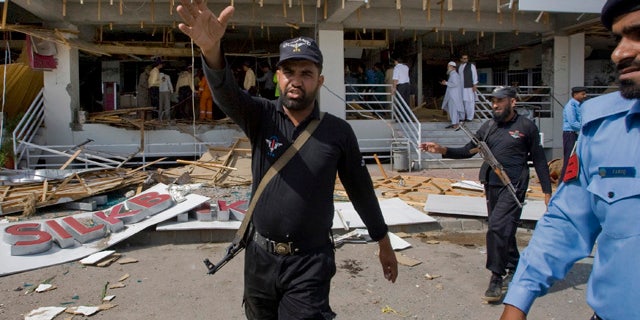 ISLAMABAD – A suicide bomber blew himself up at a busy market in the Pakistani capital on Monday, killing at least one person in the first bombing in Islamabad in a year and a half, police said.
No group immediately claimed responsibility for the bombing but the Pakistani Taliban have pledged to carry out attacks in retaliation for the U.S. raid that killed Osama bin Laden last month in an army town not far from Islamabad.
The suicide bomber tried to enter a bank in the market but was stopped by a security guard, said Islamabad police chief Wajid Durrani. The bomber then detonated his explosives, killing the guard and wounding four others, Durrani said.
The blast ripped through the ground floor of the bank, scattering body parts and pieces of broken glass on the pavement outside. Police worked to keep people from gathering at the scene for fear that there might be a second blast.
Mohammad Shafi, a 45-year-old employee of a nearby marriage hall, said he was on his way to work when he heard a loud explosion. The blast knocked him over, and he quickly jumped up and ran to some bushes for safety.
"There was smoke everywhere," said Shafi.
Ehsan Masih, a 36-year-old security guard at a nearby office, said the blast rattled the windows and doors of his building. "Broken glass hit me and several others," he said.
The last bombing in Islamabad was in December 2009, when a suicide bomber set off explosives hidden under his jacket outside the entrance of Pakistan's navy headquarters, killing one security guard and wounding 11 other people.
But there have been two high-profile assassinations in Islamabad in the past six months. Salman Taseer, governor of Punjab province, was shot by his bodyguard outside a cafe in January. Shahbaz Bhatti, Pakistan's federal minister for religious minorities, was gunned down outside his house in March.
Authorities have set up multiple police checkpoints throughout Islamabad in an attempt to prevent attacks. Analysts have said army operations targeting militant sanctuaries in the northwest have also helped reduce attacks in Islamabad by disrupting the Taliban operations. But other cities throughout Pakistan have suffered frequent attacks in recent years.
A suicide bomber on a motorcycle detonated his explosives in a commercial and residential area of the northwestern city of Peshawar around midnight on Saturday, killing 34 people and wounding more than 100 others. Many of the people killed and wounded were police and rescue workers who rushed to the scene in response to a smaller blast minutes earlier.
Also Monday, a roadside bomb struck a military convoy in Pakistan's South Waziristan tribal area near the Afghan border, killing three soldiers and wounding four others, said intelligence officials, speaking on condition of anonymity because they were not authorized to talk to the media.
South Waziristan was the main sanctuary for the Pakistani Taliban before the military launched a large ground offensive in October 2009. But attacks against security forces have continued in the area.