Ramadan prayer at the feet of Virgin Mary monument spurs controversy in Spain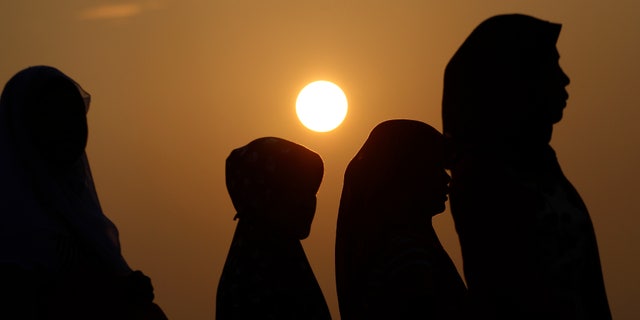 NEWYou can now listen to Fox News articles!
The Muslim community in Granada, Spain, observed Ramadan on Saturday evening praying at a historic park called the Gardens of Triumph, which for many Catholics is a tribute to Virgin Mary.
The event, which the city promoted with signs that read "Come and know Ramadan," was held in the Catholic bastion to the ire of many Granadians, who say allowing the Islamic prayer there is "a new demonstration of the clumsiness" of Mayor Francisco Cuenca's and the socialist government.
Council member Jemima Sánchez defended the Ramadan event in the historic park saying "multiculturalism can never be a threat, it is an added value."
"For the first time, the City of Granada supports its Muslim community wishing them a happy Ramadan in the gardens of Triumph," she wrote on Facebook. "[It is something] unprecedented that brings us closer and makes us more equal."
RALLIES AGAINST ISLAMIC LAW DRAW COUNTER-PROTESTS ACROSS US
But others in the government are not pleased. Rocío Díaz, a spokesperson for the council's majority party, said that while respecting all religious beliefs "does not hurt anyone's sensibility," in this case "thousands of Granadians have been wronged and insulted."
"Mr. Paco Cuenca confuses tolerance and religious respect with provocation. Call for Muslim Prayers at the Virgin of Triumph ??" tweeted Congressman Luis Salvador.
Party colleague Manuel Olivares called it "regrettable" and said that the mayor "focuses on provoking, confronting and altering the coexistence of religious confessions ..."
TUCKER TAKES ON ACTIVIST WHO SUPPORTS TAXPAYER-FUNDED MUSLIM 'SAFE SPACES'
"We are in favor of religious creeds coexisting in equality but without snobbery and far from confrontation ..." Olivares wrote.
As an "act of reparation," critics of the Ramadan episode in the park are calling for a Night of Prayer on Tuesday, in which they will recite the rosary.
Today's province of Granada was an emirate established in 1230 by Mohammed I ibn Nasr and remained under Islamic rule until 1492.