Questions arise over politics, motivation of caravan organizers
As several thousand Central Americans and Mexicans continue to march toward the United States in the migrant caravan, more questions are being asked about how the effort was brought together, who is behind it, and what prompted the movement to this point just weeks before critical U.S. elections.
While some claim the caravan began organically, others argue opponents of President Donald Trump's immigration policy have played a key role in the movement, with the aim of embarrassing the U.S. administration, and its supporters in Central American countries like Honduras.
"This caravan was initially organized by Bartolo Fuentes, a known leftist activist and former member of the national Congress in 2013, representing the political party of deposed Honduras president Manuel Zelaya," Johan Obdola, president of Latin America-focused global intelligence and security firm IOSI, told Fox News. "Now, this is not new, but is the first time it gets a high level of international media attention. And the reasons are beyond the political."
Obdola argued it's in the interest of Honduran opposition members like Zelaya to "actively create violent acts and destabilization in Honduras," and said the caravans are part of a plan to keep the region "in constant chaos." He also argued the former Honduran leader – who served as president from 2006 to 2009 – is closely allied with the Venezuelan regime of Nicolas Maduro, and questioned that conflict-riddled nation's role in fostering mass migration in an effort to embarrass the current, pro-U.S. Honduran President Juan Orlando Hernandez.
Honduras has been plagued by discord since its election last November of Hernandez, who defeated Zelaya. Many Zelaya supporters protested the results, claiming they were fixed in favor of a U.S-approved leader. The subsequent unrest has been cited as a key factor for Hondurans wanting to leave their country.
Fuentes, a former Zelaya government legislator and host of the migration-focused radio show "Without Borders," is often characterized by Honduran government figures as a "coyote," or human trafficker. To others, he is a social activist. Fuentes himself last week was pulled from the main caravan group in Guatemala and deported back to Honduras.
Zelaya staunchly denied any link to the caravan, or any effort to push Hondurans toward the United States.
"This apocalyptic exodus is due to the disgraces that the people are living," he told Fox News in an exclusive interview Thursday. "The caravan is a natural process of unity. It is self-summoned, and there is no organization assembling this quantity of immigrants in the country. It is a reaction from the people to the problems they are living in our countries."
The former president also accused the U.S. of "maintaining a socialist dictatorship" in its support for the "illegitimate" Hernandez leadership, but denied any other governments – including Venezuela – were behind the caravan.
"No leftist government has come here to promote immigration to the U.S., nor has it financed it. No one needs to pay Honduras to leave. They leave voluntarily," Zelaya continued, adding that while he has personally worked with Bartolo Fuentes in the past, immigration has long been his most important issue of advocacy.
"Fuentes has worked with the immigrant community for 20 to 30 years – well before entering politics – and that he receives no money for this work nor has he given out money to anyone," Zelaya insisted.
The Honduras Embassy in Washington and Fuentes did not immediately respond to request for comment. Fuentes wrote on Facebook this week that the migrants are in need of basics like ointments for blisters, socks, shoes, diapers, and umbrellas. He thanked the help of pastors and churchgoers for food and other supplies.
While Fuentes had much to do with helping bring to life and expand the presence of the caravan, others contended he was not the first. Rather, social media platforms like Facebook and WhatsApp laid the first foundations that made it easy to draw in Hondurans looking for an easier path to the U.S.
"They had been unable to afford coyotes, so they viewed joining this caravan as their opportunity to flee turmoil in much of Central America," said James Hyde, an analyst and member of the Electromagnetic Pulse Task Force on National and Homeland Security. "When Honduran TV picked up the posts and the reactions to it, the number of people swelled from hundreds to thousands."
Hiring coyote smugglers for the perilous journey can cost up to $5,000, more than double what most Hondurans make in one year.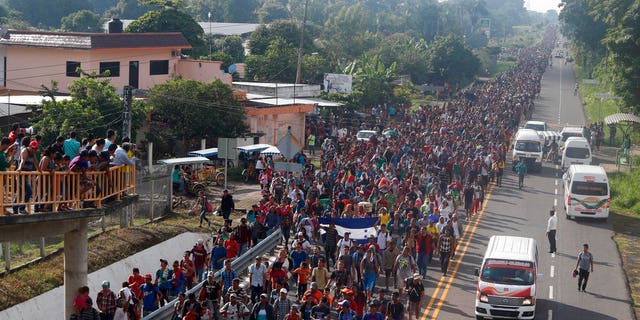 Small groups started to talk among themselves about making a journey last month, sources said, while Fuentes got on-board to help mobilize the migrants – just as he had with another caravan in April – this time urging the group to meet up at the San Pedro Sula bus station.
"It's very well-organized by those who started the social media campaign. It gained momentum when Bartolo Fuentes got involved and the movement stirred up lawyers group funded with dark money, who teach those headed north what to say for asylum," Hyde said. "Joining the massive group is simple. People decide to cast away their current lives and jump into the opportunity to join."
Word spread with media attention and a local news coverage. And soon Hondurans from across the country, who saw it as an opportunity to relocate cheaply and under the guise of "safety in numbers," allowing them safe passage from dangerous drug cartels and smugglers along the dangerous roads.
Estimates on the size of the current caravan vary. And while there are signs the Mexican government is taking steps to better control or reduce the number of migrants, El Salvador, Guatemala and Honduras seemed unwilling or unable to take much action. Some two-thirds of those in the caravan are Hondurans, according to estimates, with the remainder from other Central American countries and Mexico.
COLOMBIAN MOTHERS CHALLENGE 'BAD LUCK' TABOOS, TAKE THE LEAD EMERALD MINING
The motivations for those in the group also vary. Many are seeking better economic opportunities. Others are members of persecuted groups who say they're unable to live safely and openly in their home countries. Some were previously deported from the U.S., and are trying to get back to family members who remained behind.
"For most of these people trying to reach the USA, and fleeing violence and poverty, they are the ones paying the highest price as many of them are victims of crime, torture and sexual abuse," said Obdola. "There are some humanitarian and social groups assisting the caravan along the way. Some with only a humanitarian interest, some with more of a political interest who see the USA and Trump as the enemy."
Sources said the caravan is being supported and nourished in part by an array of Mexican church and human rights organizations, as well as locals on the streets.
"It's a weird mishmash of people involved. Small amounts of money have been handed out, but it is not clear from who and where," said one Mexico-based law enforcement source. "It isn't a cartel operation and cartels aren't involved. The cartels are very nervous about what is happening, the last thing they want is attention on the border which only makes their job harder."
Some have strongly argued the issue should be viewed in humanitarian rather than national security concerns.
VENEZUELAN OPPOSITION LEADER LAMENTS "GENOCIDE" IN HIS COUNTRY, REVEALS HIS ESCAPE FROM DETAINMENT
"We need to focus on the human aspect of this and consider what is driving this migration; violence, corruption, economic limits or degradation, and the effect of climate change," said Michael Scadden, Geopolitical Risk and Corporate Security Advisor specializing in Latin America. "Food and water security is a major factor in many migrants' decisions to take the risk of this journey."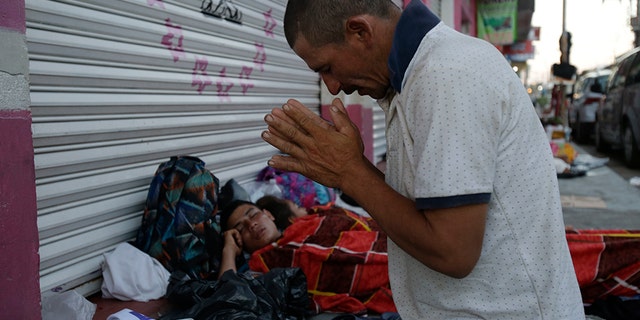 Others contend that whatever the legitimate asylum claims of those in group, international law dictates caravans should not make it to the United States border.
"International law on asylum is that the asylum seeker is supposed to present themselves to the authorities of the first international border they reach upon fleeing their countries," said Dennis Santiago, a global risk and foreign policy analyst. "For Central Americans fleeing north from their governments, that country is Mexico; specifically, the southern border of Mexico."
Santiago explained that Mexico, with aid from the international community, should have set up refugee camps at the borders to handle the migrant flow. That would have then triggered the involvement of the U.N. High Commission on Refugees (UNHCR).
"It is from these camps that other organizations such as the U.S. Office for Refugee Resettlement are supposed to process persons to qualify eligible refugees for movement from the camps to a third host nation," he said.
Santiago also asserted the U.S., Mexico and the U.N. have the money and resources to support the refugee camps.
"We're talking 1,500 people per caravan, which is a drop in the bucket compared to the 11 million Syrians, Kurds and Yazidis displaced in the Middle East," he continued. "But most of these people are refusing to go into camps and process as refugees. Somebody's giving them a better deal than the internationally sanctioned solution set. Instead, they are marching towards the U.S. border. Are these people really legitimate refugees from their own governments?"
Joseph Fallon, a research associate for the U.K. Defense Forum, also argued that "if fear of violence in their country was their primary motive, they could have traveled to neighboring Costa Rica."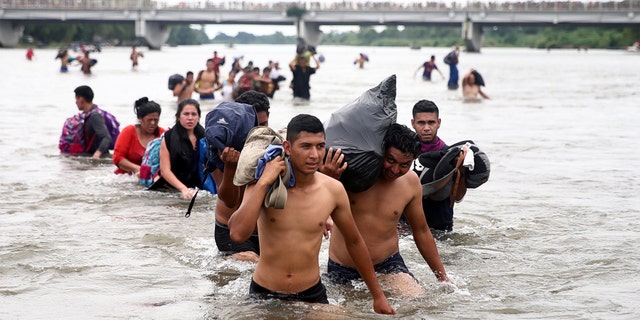 Under pressure from the Trump administration, Mexican officials have been desperately urging caravan members to stay in Mexico and be processed there. Yet the vast majority have remained steadfast in their endeavor to get to the United States. Migrants in the past have complained that applying for asylum in Mexico is a demoralizing process, which can take more than a year, and even then routinely results in a rejection.
For the first time ever in 2016, Mexico deported double the number of Central Americans than did the United States. That has at least in part what has motivated many to head north.
Yet at least some of those seeking asylum also appear to have been "coached," according to several sources, and have memorized scripted stories that would make them more sympathetic to U.S. immigration officials.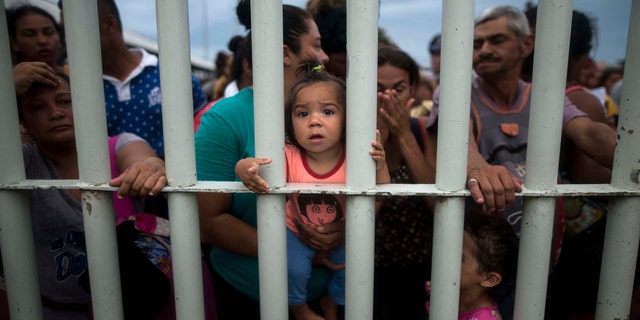 "Caravans didn't exist before 2010. Trips are carefully planned and coached. Aliens removed do share their experiences back home and that presents lessons learned for a return trip for others planning their first run," Gabriel Ruiz, a California border-based deportation officer with the U.S. Immigration and Customs Enforcement (ICE), told Fox News. "Almost all have birth certificates and identity documents, but establishing the validity of those documents is time-consuming and difficult because a processing officer doesn't have that sort of time to investigate identities in detail."