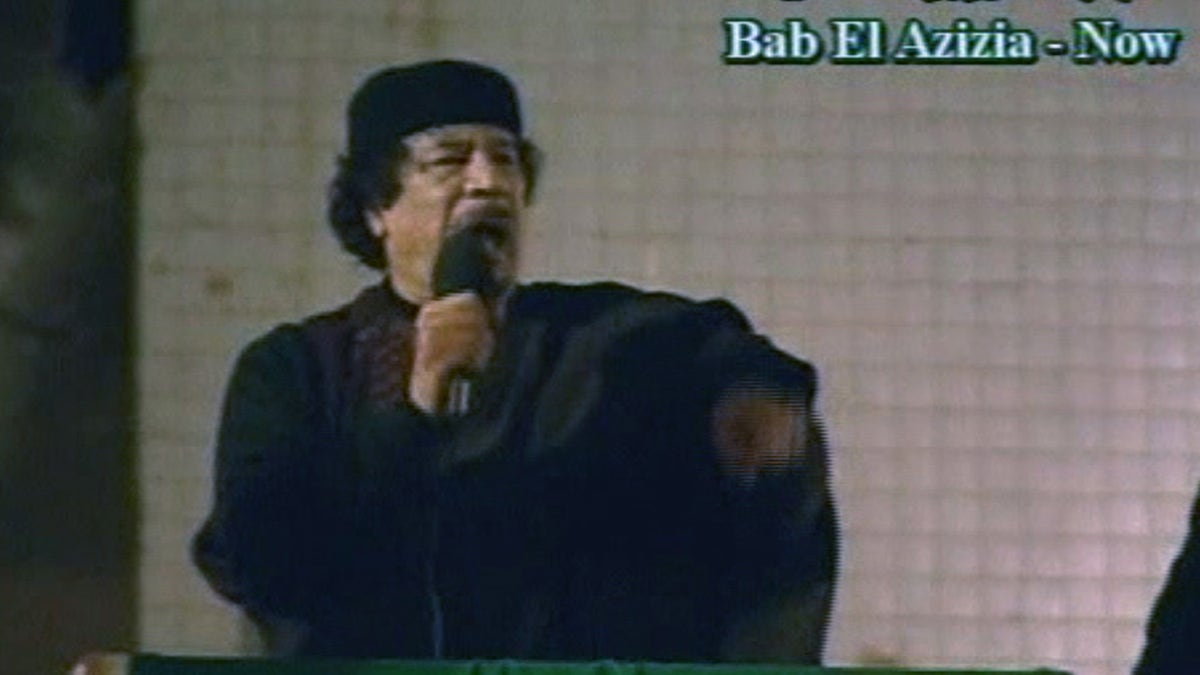 Libyan leader Muammar al-Qaddafi made his first public appearance in a week on Tuesday, assuring his country that they will "beat" the international coalition striking his military forces, but U.S. Secretary of State Hillary Clinton suggested he really may be looking for ways to slip out the back door.
The defiant strongman spoke to a crowd of supporters from a balcony at his Bab Al-Azizya residential compound in a suburb of Tripoli – the target of a cruise missile strike on Sunday night.
"In the short term, we'll beat them, in the long term, we'll beat them," he said.
The speech came after heavy anti-aircraft fire lit up the skies over Tripoli and the sound of loud explosions echoed through the Libyan capital after nightfall on Tuesday. The gunfire appeared to signal a fourth night of U.S. and European air operations over Libya to enforce a U.N.-authorized no-fly zone.
This latest coalition assault came following a push by Qaddafi's forces as they shelled rebels regrouping in the desert dunes outside a strategic eastern city earlier Tuesday, and his snipers and tanks roamed the streets of the last major opposition-held city in the west.
But behind the scenes Qaddafi's confidence may not be as strong, Clinton said Tuesday in a TV interview.
"We've heard about other people close to him reaching out to people that they know around the world -- Africa, the Middle East, Europe, North America, beyond -- saying what do we do? How do we get out of this? What happens next?" Clinton told ABC News. "I'm not aware that he personally has reached out, but I do know that people allegedly on his behalf have been reaching out."
Clinton hinted at Qaddafi's possible search for exile and also said she heard reports of one of the leader's sons being killed in the airstrikes. But she could not confirm either.
"A lot of it is just the way he behaves. It's somewhat unpredictable. But some of it, we think, is exploring. You know, what are my options, where could I go, what could I do," Clinton said. "And we would encourage that."
Clinton would also not comment on whether or not the U.S. believes Qaddafi can be ousted from power.
"I don't want to make any predictions because we are taking this one step at a time. I don't want to jump beyond where we are right now," she said. "Now obviously, if we want to see a stable, peaceful, hopefully someday democratic Libya, it is highly unlikely that can be accomplished if he stays in power as he is."
U.S. Defense Secretary Robert Gates and others said the U.S. military's role will lessen in coming days as other countries take on more missions and the need declines for large-scale offensive action like the barrage of Tomahawk cruise missiles fired Saturday and Sunday mainly by U.S. ships and submarines off Libya's coast.
France has proposed that a new political steering committee outside NATO be responsible for overseeing military operations over Libya.
French Foreign Minister Alain Juppe says the new body will bring together foreign ministers of participating states -- such as Britain, France and the United States -- as well as the Arab League. It is expected to meet in the coming days, either in Brussels, London or Paris.
A U.S. defense official told Fox News the U.S. has fired 161 Tomahawk cruise missiles into Libyan territory since military strikes began, with 24 missiles being fired overnight Monday into Tuesday.
He said the strikes overnight effectively extended the area covered by the no-fly zone, but declined to describe how large the zone had become.
However, not all NATO members are in favor of the no-fly zone and airstrikes against Libya.
Juppe says not all members of the military coalition are members of NATO and "this is therefore not a NATO operation." But he says the coalition would use the NATO's "planning and intervention capabilities."
Misrata, the last western city held by rebels, was being bombarded by Qaddafi's forces on Tuesday, his tanks and snipers controlling the streets, according to a doctor there who said civilians were surviving on dwindling supplies of food and water, desperately in search of shelter. Up to 40 people were said to have been killed in the rebel-held city, including four children, according to Sky News.
Adm. Samuel Locklear, who is running Operation Odyssey Dawn, confirmed that Qaddafi's forces are attacking civilians in Misrata.
Locklear says the U.S. will "pursue all actions necessary" to stop these attacks.
The Libyan leader has ruled the North African nation for more than four decades and was a target of American air attacks in 1986.
The Associated Press contributed to this report.