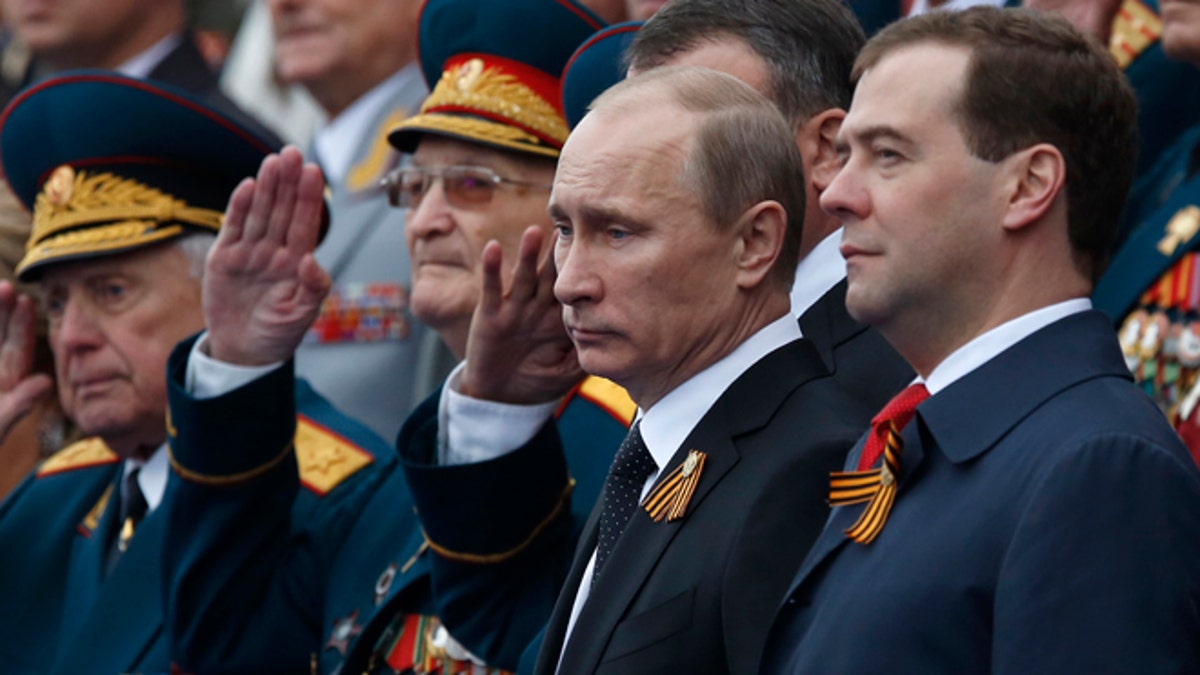 WASHINGTON – Among Vladimir Putin's first acts now that he's back in Russia's top job was to cancel a date with President Barack Obama.
Both nations insist Putin's no-show at a high-profile economic gathering tailored for his attendance is not a snub. But the decision to skip next week's meeting of the Group of Eight industrial nations in the United States and a much-anticipated Oval Office meeting with Obama, may set a sour tone for the next four years.
If Obama wins re-election, he will have Putin as a sometime partner and sometime adversary through the end of his presidency. If Republican Mitt Romney wins, the dynamic might be very different. Romney has called Russia an "enemy," while Putin has signaled that he will hold off on any major new cooperation with the United States until he knows who will be president.
Either way, Russia watchers in and out of the U.S. government predict a more businesslike relationship than was the case under his predecessor, Dmitry Medvedev, and perhaps a more limited one. Putin has a variety of troubles at home and is not likely to pick a fight with the United States despite sharply negative rhetoric about Washington during his election campaign. But he also is not likely to welcome friendly ties for their own sake, said Steven Pifer, a Russia and arms control expert at the Brookings Institution.
"I think you'll see a more transactional relationship," Pifer said.
Putin will be prepared to cooperate with the U.S. where he sees fit, "but it will be, `If I do this for you, what do I get?"' Pifer said.
Putin returned Monday to the presidency he had vacated four years earlier. The Russian constitution prohibits more than two consecutive terms. In the interim, Putin protege Medvedev was president and Putin occupied the previously less important post of prime minister. Medvedev made way for Putin's return, and now Putin has installed Medvedev as prime minister.
Putin was considered the top decision-maker throughout, but Medvedev brought a cheerier and more Western-oriented face to Russian leadership that Obama sought to engage.
The White House quietly announced this week that Putin would not attend the G-8 meeting as planned and would send Medvedev instead. That followed another surprising announcement from the White House earlier this year, when it abruptly said the G-8 meeting was being moved from its long-planned Chicago venue to Camp David, the presidential retreat in Maryland's Catoctin Mountains north of Washington.
A major reason for the switch was to appear welcoming to Putin, U.S. and other diplomats said. The economic meeting was planned to take place adjacent to a summit of NATO leaders in Chicago, and Putin's fierce opposition to a planned NATO missile defense shield in Europe made his attendance at even half the planned gathering awkward.
The Kremlin explained Thursday Putin's decision to skip the high-profile visit to the United States by saying he needs to finish setting up his new government. That sounded hollow to many U.S. ears but makes some sense given Putin's political troubles at home.
"It does not at all feel like a snub," White House press secretary Jay Carney said Thursday. "It was something we understood."
Putin's job swap with Medvedev, the former president who is now prime minister, has created tensions of its own within Russia's ruling elite. Who will serve in the new Cabinet under Medvedev and what role will be played by other top Putin allies who object to being subordinate to Medvedev? No appointments have yet been made.
All of that has little to do with the United States, but Moscow's relationship with Washington remains its most-watched and arguably its most important overseas relationship.
Cooperation with the Obama administration on such areas as supply routes for the war in Afghanistan and international sanctions on Iran would not have happened without Putin's back-seat consent. That kind of cooperation is likely to continue, at least for now, but with Putin's warier and more skeptical view of the United States more on display.
The Obama administration knew Putin would be a tough customer but hoped for a smoother start.
A senior U.S. official said the White House expects to continue regular, high-level meetings with Russian leaders and does not expect areas of disagreement such as missile defense or human rights issues to derail cooperation between the two countries. The official spoke on condition of anonymity to describe internal planning.
Putin has gone out of his way since the election to defend the U.S.-led campaign in Afghanistan and his proposal to allow the Americans to use a strategic airfield for resupply. He also has defended Russia's decision to join the World Trade Organization, which the Obama administration has pushed hard to make happen.
In both cases, domestic Russian criticism has come mainly from the Communists, who have the second-largest faction in parliament.
Anti-Putin street protests in Moscow erupted on Sunday, and more than 400 people were arrested after the rally turned into clashes between the demonstrators and riot police.
Since Monday, activists have been staging flash mobs across Moscow: suddenly assembling in public places, camping and staying there for the night.
The United States is dampening expectation for any major new arms control gains with Russia at least until after the election, and diplomats have all but conceded they cannot get Russian consent for harsher United Nations Security Council action against Syria now.
Putin and Obama spoke by phone on Wednesday, and agreed to meet next month on the sidelines of another economic gathering in Mexico. That meeting will lack the symbolism of a White House invitation, however, which may suit Putin just fine.