Putin says US and North Korea are 'on the verge of a large-scale conflict'
Russian President Vladimir Putin cautioned the United States on Friday not to apply too much pressure on North Korea regarding its nuclear weapon program, saying the strained relationship between the two countries was "on the verge of a large-scale conflict."
Putin posted the warning on the Kremlin website before he left for the BRICS nations summit in China, Reuters reported. Putin called on the two nations to open up dialogue with one another.
"It is essential to resolve the region's problems through direct dialogue involving all sides without advancing any preconditions [for such talks]," Putin wrote. "Provocations, pressure and bellicose and offensive rhetoric is the road to nowhere."
TRUMP ADMINISTRATION RETALIATES AGAINST RUSSIA, FORCES CLOSURE OF US POSTS
Putin wrote that relations between the two countries had worsened to the point that it had "balanced on the verge of a large-scale conflict."
"In Russia's opinion the calculation that it is possible to halt North Korea's nuclear missile programs exclusively by putting pressure on Pyongyang is erroneous and futile," Putin wrote.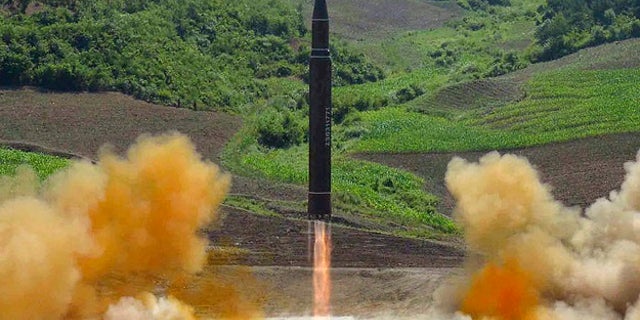 On Tuesday, North Korea escalated the conflict, launching a midrange ballistic missile over U.S. ally Japan. Kim Jong Un, the leader of the Hermit Kingdom, called the launch a "meaningful prelude" to containing Guam, which is home to a number of key U.S. military bases.
President Trump said Tuesday that "all options are on the table" after the missile launch.
RUSSIA CAUTIONS NORTH KOREA SANCTIONS COULD BE 'COUNTERPRODUCTIVE AND DANGEROUS'
"The world has received North Korea's latest message loud and clear: this regime has signaled its contempt for its neighbors, for all members of the United Nations, and for minimum standards of acceptable international behavior," Trump said in a written statement released by the White House.
Following Trump's remarks, Australian Prime Minister Malcolm Turnbull said his country would join the U.S. and go to war with North Korea if asked. Turnbull believed that war was not the only answer, and stressed economic sanctions could work as well.
"If North Korea were to attack the United States, as they often threaten to do, there would be a conflict which would be a suicide note from North Korea's point of view," Turnbull said. "Kim Jong-un is playing a game of very, very dangerous brinkmanship."
He added: "If he starts a war, he will lose it instantly."
China's Defense Ministry said war was not an option in finding a solution to the growing North Korean crisis. Defense Ministry spokesman Col. Ren Guoqiang told reporters Thursday all parties should exercise restraint and avoid words and actions that escalate tension.
On Thursday, Russian Foreign Minister Sergey Lavrov warned U.S. Secretary of State Rex Tillerson that any new sanctions against North Korea would be "dangerous." Lavrov spoke to Tillerson several hours after Trump tweeted that "talking is not the answer" when it comes to dealing with North Korea.
Lavrov told Tillerson that Russia urged all parties to avoid a military solution to the crisis and added that Moscow views any potential sanctions against North Korea as "counterproductive and dangerous."
The Associated Press contributed to this report.