Pulse shooting victim dances once again at Orlando Zumba conference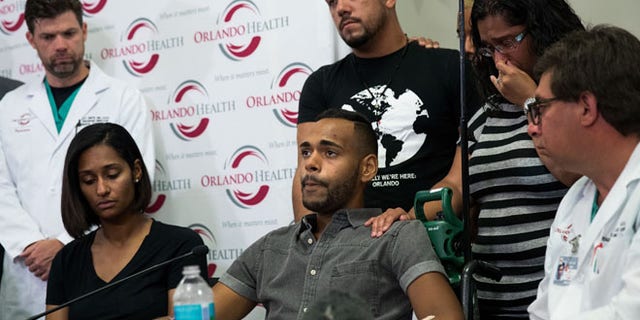 A month and a half after he was shot six times in the deadliest mass shooting in recent U.S. history, Zumba enthusiast Angel Colon is dancing again.
Colon, using a walker, took the stage in front of thousands at the Zumba Instructor Network conference in Orlando on Thursday.
"This past month has been the worst month of my life, but going through this there's been nothing but love and support from everyone," he said, according to the Orlando Sentinel.
Despite his wounds, Colon is considered one of the lucky ones of the Pulse nightclub shooting, which left 49 dead and more than 50 others wounded.
Colon was joined on stage at the Orange County Convention Center by Eatonville officer Omar Delgado, who helped drag Colon to safety on the night of the shooting.
"I'm amazed and I'm so proud of you," Delgado said.
He added: "That second that you moved and I just happened to look your way, it created a bond between you and me. We will always be brothers and no matter how long it takes for you to get well, I'm going to be by your side."
During the conference, Zumba also announced that in honor of Colon it would start the "Zumba Fitness Angel Institution," which will provide a scholarship to one instructor who exemplifies love and diversity at the annual conference. The organization also said it would pay for all his physical therapy and his rent for a year.
Colon also received a special message from pop star Jennifer Lopez. He danced to the song that she and "Hamilton" creator Lin-Manuel Miranda released for Pulse victims called "Love Make the World Go Round."
"Stand tall, Angel, and dance. Dance as the world is watching," Lopez said.
The owners of Pulse announced on Sunday that they would reopen the club as a memorial to those killed in the massacre.
The OnePulse Foundation announced the news in an Instagram post and added that the owners plan to "provide financial assistance to the victims" and "contribute to the creation of a permanent memorial."
While the not-for-profit foundation was registered in Florida last month, it is still unclear if the Pulse owners plan to build a memorial or that the entire club will become a monument to those killed.
Pulse owners say they "will be reopening Pulse as a memorial for the 49 lives who were taken from us on June 12th," according to the Instagram post.