Puerto Rico's Doral bank closed by FDIC as Banco Popular steps in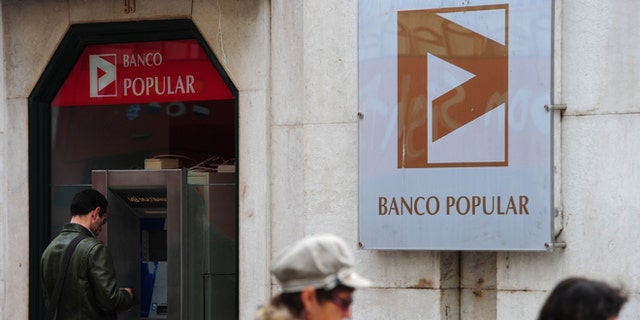 SAN JUAN, Puerto Rico (AP) – Puerto Rico regulators shut down Doral Bank on Friday, with Banco Popular taking over most of the operations of what once the U.S. territory's fourth largest bank.
Doral had $5.9 billion in total assets and $4.1 billion in total deposits.
"It is the largest bank failure in five years," David Barr, a spokesman for the Federal Deposit Insurance Corp., said by phone.
The FDIC, which is overseeing the shutdown and shift of operations, said Banco Popular will take over eight of Doral's 26 former branches and work with three other banks to operate the other 18 locations on the island. Banco Popular North America will operate Doral's three branches in New York City and Centennial Bank will take over its five branches in Florida.
Banco Popular is Puerto Rico's biggest bank. The deal to take on Doral's operations will increase its assets by about $2.5 billion, Popular CEO Richard Carrion said in a phone interview.
"This will provide stability to the financial system," he said. "It's a very important acquisition for us."
Doral struggled in recent years with shrinking assets, a multimillion-fraud case and a lengthy, and so far unsuccessful, legal fight with Puerto Rico's government trying to get back what it says was a $229 million tax overpayment.
Executives with the bank did not respond to a request for comment.
Doral opened in October 1981 and operated mainly as a mortgage lender, employing more than 1,000 people at the time of its closure. In 2007, it saw a $610 million recapitalization.
Its high-profile legal problems began in November 2010, when a federal grand jury indicted a former Doral employee and four associates on charges of fraud conspiracy. Then earlier this week, a federal grand jury indicted two people in a $2.3 million fraud case, including a former vice president of the bank's property and facilities department.
The bank also was the target of an FBI raid in late December, with agents targeting its information technology offices. U.S. Attorney Rosa Emilia Rodriguez said at the time that it might be related to a probe into the June 2011 killing of Maurice Spagnoletti, an executive vice president in charge of Doral's mortgage and banking operations.
Spagnoletti, 56, was fatally shot while driving home, and authorities said it seemed like a professional attack. The FBI is still investigating, and no arrests have been made.
The closure of Doral came two days after a Puerto Rico appeals court voided a deal between the bank and the island's government for repayment of $229 million that Doral said it overpaid in taxes. The government had canceled the agreement and Doral sued. The bank sought to challenge the appeals court ruling, but the island's Supreme Court said Friday that it would not hear Doral's appeal.
Barr said the FDIC will ask that all litigation be postponed by 90 days.
"Our main focus right now is reopening the bank under normal business hours for the customers," he said.
Doral joins other failed Puerto Rico-based banks including Westernbank Puerto Rico, Eurobank and R-G Premier Bank of Puerto Rico. They were all shut down in April 2010.
Like us on Facebook
Follow us on Twitter & Instagram