Puerto Rico's biggest oil supplier accused of misusing $11M of public funds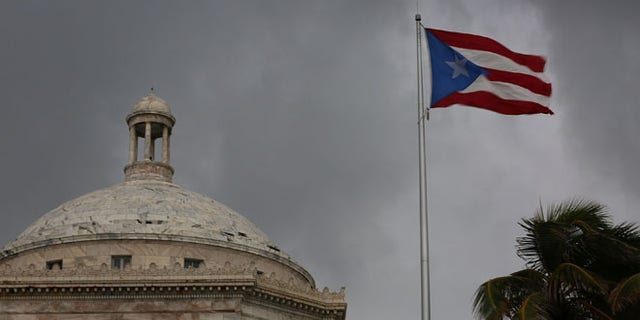 NEWYou can now listen to Fox News articles!
SAN JUAN, Puerto Rico (AP) – The owner of Puerto Rico's biggest oil supplier was accused Monday of misappropriating $11 million in public funds from the largest U.S. public power utility amid a dire economic crisis.
José González Amador and his company, PetroWest, face 46 criminal charges. They are alleged to have charged the heavily indebted Puerto Rico Electric Power Authority a 0.5 percent municipal tax even though some municipalities granted them a lower rate or waived the tax altogether, Justice Secretary Cesar Miranda said.
The charge was then passed on to consumers for the past four fiscal years, officials said.
"This crime is unacceptable and we cannot tolerate those who steal from our contributions, especially at a time when we are facing an unprecedented fiscal crisis," Miranda said.
González's attorney, Harry Anduze, did not return a message seeking comment.
The case has outraged Puerto Ricans, who are bracing for an estimated 20 percent increase on power bills that are already twice those of the U.S. mainland on average.
On June 28 a judge is scheduled to determine whether there is enough evidence for the case against González to go to trial.
Last week Puerto Rico's Supreme Court ordered González to testify before the island's Senate hearing amid an investigation into allegations that the power company overcharged customers by hundreds of millions of dollars.
González had fought for weeks to avoid testifying.
"The excuses have run out for this person who has a lot of explaining to do ... about how petroleum was purchased at the Electric Power Authority," Sen. Anibal Jose Torres said after the court's ruling.
A special legislative commission investigating those fuel purchases recently turned over its findings to the island's Justice Department and the FBI. The Senate hearings focused on other allegations as well, including that government officials took bribes, faked tests to meet federal air quality standards and borrowed money in part to pay salaries instead of investing in construction projects.
The Electric Power Authority holds some $9 billion in debt and is preparing for a restructuring after months of negotiations with bondholders seeking to recover a portion of their investments. Officials have already warned the company will miss a $420 million interest payment due in July, and that the company will run out of money by this summer without a restructuring.
Overall, Puerto Rico has $70 billion in public debt that the governor has said is unpayable and needs restructuring. A federal bill that the U.S. House of Representatives recently approved aims in part to create a federal control board to oversee the island's finances. The U.S. Senate is expected to vote on it soon.