Puerto Rico unveils fiscal reform plan to reduce much of $72B debt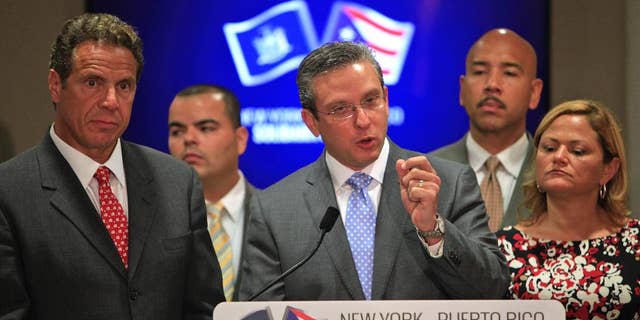 SAN JUAN, Puerto Rico – Puerto Rico's government released a long-awaited fiscal reform plan on Wednesday that would reduce much of the island's $72 billion public debt and calls for restructuring the remainder at the expense of bondholders.
The five-year plan addresses only $47 billion of the U.S. territory's debt, leaving out debt held by Puerto Rico's troubled power company, as well as its water and sewer company.
During a background briefing, members of the group that worked on the plan said Puerto Rico's Government Development Bank would run out of money by the end of this year if action is not taken and warned that the government would face a liquidity crunch next year if the plan is not implemented.
It is unclear how creditors and bondholders will react to the plan, which still requires approval by Puerto Rico's legislature and governor.
The plan calls for the creation of a five-member control board, whose members would be appointed by the governor but would take into account suggestions from creditors and potentially the federal government. The board would oversee implementation of the plan, but officials said it was too early to say what kind of power the control board would have if the government does not meet financial objectives.
Officials say the government also should consider lowering the minimum wage for young workers, invest in private-public partnerships and cut subsidies to municipalities and the University of Puerto Rico, among other things.
It is unclear how many of these suggestions will be implemented. Officials said they anticipate an intense debate in Puerto Rico's House and Senate and noted that 2016 is an election year.
The plan also states that Puerto Rico should seek equal treatment from the U.S. government regarding tax incentives and health care reimbursements.
Puerto Rico Gov. Alejandro Garcia Padilla has said the $72 billion public debt is unpayable and needs restructuring.