Puerto Rico requests unprecedented bankruptcy protection for $70B debt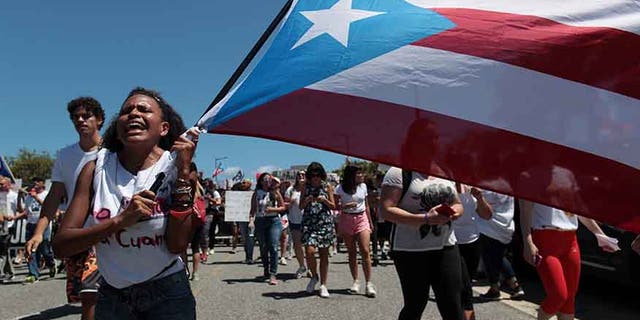 NEWYou can now listen to Fox News articles!
In a record-setting move, Puerto Rico has filed for a form of bankruptcy protection that puts part of its monumental $70 billion debt in the hands of a federal judge.
The historic announcement comes a day after several major creditors sued the U.S. territory seeking to recuperate the millions of dollars they invested in bonds issued by Puerto Rico' s government, which has declared several defaults amid a 10-year recession.
A federal district court judge will now be in charge of determining how Puerto Rico's debt will be restructured.
"We have reached this decision because it protects the best interests of the people of Puerto Rico," said Gov. Ricardo Rossello in a statement on Wednesday.

PUERTO RICO HIT WITH 1ST LAWSUIT FROM BONDHOLDERS
Puerto Rico is barred from traditional bankruptcy because it is a U.S. territory. The case was filed under Title III of the PROMESA law, which allows an in-court debt restructuring process akin to U.S. bankruptcy protection.
The process will give Puerto Rico the legal ability to impose drastic discounts on creditor recoveries, but could also spook investors and prolong the island's lack of access to debt markets.
Unlike a regular bankruptcy on the U.S. mainland, a judge cannot unilaterally seize any of Puerto Rico's assets without prior authorization from the federal control board.
It is the biggest restructuring ever by a local government, far larger than Detroit's.
"The governor needed to show that his primary allegiance lies with the citizens of Puerto Rico, and that was the justification for the filing," said David Tawil, whose fund, Maglan Capital, held Puerto Rico GO debt but has since sold it. "I'm not sure whether bondholders are going to get any better treatment or recovery under this course of action."

PUERTO RICANS PROTEST ON MAY DAY AS DEBT DEADLINE NEARS
The legal proceeding does not mean negotiations toward a consensual restructuring agreement must stop, the governor said.
"It is my hope that the Government's Title III proceedings will accelerate the negotiation process," the governor said in the statement.
Rossello's fiscal plan for the island, approved by the oversight board in March, forecasts Puerto Rico having only $800 million a year to pay debt, less than a quarter of what it owes. The low figure alienated creditors, and negotiations toward a restructuring deal have foundered.
In addition to its debt, Puerto Rico is facing a 45 percent poverty rate, a shrinking population and unemployment more than twice the U.S. average.
Puerto Rico and its general obligation bondholders, whose $18 billion of debt is backed by the island's constitution, were negotiating until the last minute.
Reuters and AP contributed to this report.